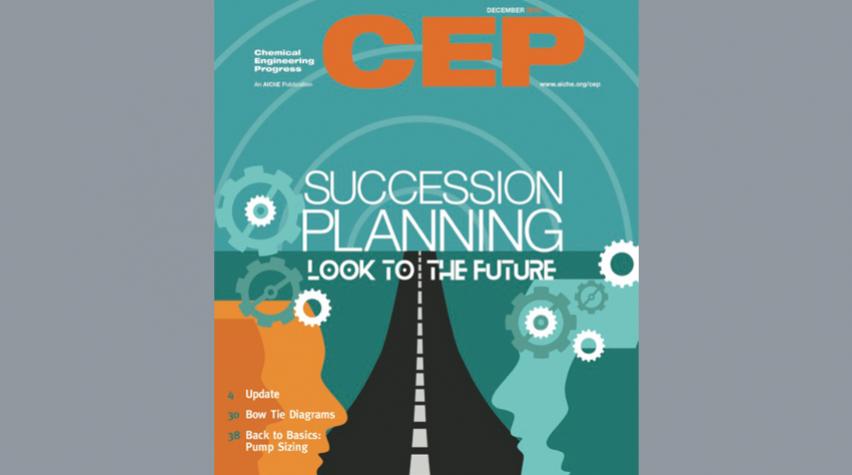 BACK TO BASICS
Pump Sizing: Bridging the Gap Between Theory and Practice
This article explains some of the core concepts behind pump sizing.
Use the Bow Tie Diagram to Help Reduce Process Safety Risks
Bow tie diagrams are useful for visualizing process safety risks and safeguards. Although typically used after an incident has occurred, bow tie diagrams can also be employed during a process hazard analysis.


BUSINESS
Look to the Future with Succession Planning
As experienced individuals retire or leave your organization, make sure business objectives can still be met by establishing a succession plan.
Update
An Activity Tracker for Monitoring Glucose
Move Over CRISPR/Cas9: Less-Known Tool Edits Gene Mutations
Printed Electronics Self-Heal After Damage
New Paper is Colorful, Bendable, and Electronic
Paving a Perovskite Path to Low-Cost Solar Energy
A Better Way to Make Li-Ion Batteries
Plus
Catalyzing Commercialization: Converting Waste Heat into Electrical Power
AIChE Journal Highlight: Use these Tools to Ease into Active Learning
Technical Entity Trends: Overcoming Hurdles to Natural Gas Technology Implementation
Patent Update: Is the Subject Matter of Your Invention Eligible for Patenting?
Process Safety Beacon: Uncover Hidden Ignition Sources
Career Corner: Dealing with Difficult Bosses
Profile: Pursing Science for the Public Good
Product Focus: Pumps
Software
Books
Calendars
Institute News

President's Corner
New AIChE Fellows
2017 AIChE Board of Directors' Election Results
Divisions and Forums Present Awards
Margaret H. Rousseau Award will Honor Women Engineers
2017 Institute and Board Award Nominations Due February 15
Your AIChE Membership: Member Savings
Member News
The December 2016 issue of CEP is now available online. AIChE members receive access to CEP, including a searchable archive of issues dating back to 2001, online at http://www.aiche.org/cep.