With AIChE's Annual Meeting soon under way, I spoke with Dr. Lin Li, senior staff research engineer at Chevron Energy Technology Company in Richmond, CA, and Annual Meeting program co-chair, on the 3D Printing Technical Session at this year's meeting in San Francisco.
What is your role for the 2016 Annual Meeting in San Francisco?
I am meeting program co-chair (Co-MPC) for the 2016 AIChE Annual Meeting in San Francisco. In addition to working with meeting program chair and AIChE meeting staffs to organize the technical program for the meeting, I lead the efforts to plan and organize the 3D Printing session, which is one of the two special sessions from MPCs.
What was your inspiration for developing the 3D Printing session?
3D printing, or additive manufacturing, uses a digital design to build 3D structures, and is emerging from its niche status to a viable alternative to conventional manufacturing processes in many applications, including applications in chemical engineering processes (from developing internals for process plant equipment to emerging areas such as bioengineering). On the other hand, many new developments in this field have to do with broadening the science underpinning 3D printing technology, from physics and engineering in early generation to chemistry and digital material design. With the support of AIChE Foundation, we can bring this exciting technology to the AIChE Annual Meeting to provide an opportunity for chemical engineering professionals to learn about this technology and inspire them to take a more active role in this emerging field.
What are you hoping attendees will learn from your event?
This session will feature speakers from various sectors who are experts and leaders in 3D printing technology. The topics covered include recent advances in 3D manufacturing that would allow production of commercial quality parts at high speeds, developing designer materials with properties that are unachievable using conventional manufacture process by combining microstructure design and advanced 3D manufacturing techniques, and commercializing polymer materials for 3D printing. (For more information on the 3D Printing session visit: www.aiche.org/3dprinting).
Through these presentations, the attendees can learn the current status and future direction of 3D manufacturing. In particular, we hope that this session can help chemical engineers to gain more insights into how our profession can benefit from and contribute to the development of this fascinating technology.
Click here to learn more about this event.
Join the conversation on Twitter and Facebook | #AIChEAnnual.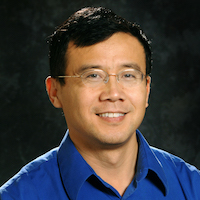 ---
Dr Lin Li
Lin Li is a senior staff research engineer at Chevron Energy Technology Company, Richmond, CA, and has over 20 years' academic and industrial experience in research and development in the area of reaction engineering and separation technology. Read more.