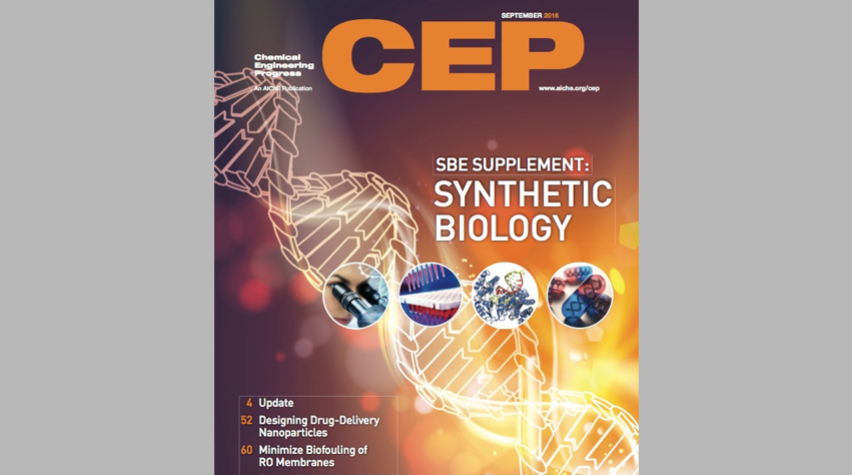 ON THE HORIZON
Designing Drug-Delivery Nanoparticles
Nanoparticles for drug delivery can be better designed by modeling the body as unit processes connected by the vascular system. Each organ and organ function can be represented as a unit process on organ-on-a-chip devices.
Read this article now



SOCIETY FOR BIOLOGICAL ENGINEERING SUPPLEMENT: SYNTHETIC BIOLOGY
SBE Update: The Expanding Synthetic Biology Toolbox
Rewriting DNA Synthesis
Traditional methods of DNA synthesis are slow and costly, and hinder the design-build-test cycle for creating optimal gene sequences and protein variants. This article presents a novel approach that will allow researchers to explore synthetic biology's full potential.
Engineering Genes with CRISPR-Cas9
Engineered CRISPR-Cas systems allow scientists to make programmable, precise edits to DNA. This technology has the potential to cure human diseases and transform agriculture.
A Bioengineering Platform to Industrialize Biotechnology
An integrated bioengineering platform that harnesses the synthetic biology toolbox is the key to an economically viable commercial bioprocess.
BACK TO BASICS
Introduction to Ammonia Production
Ammonia is critical in the manufacturing of fertilizers, and is one of the largest-volume synthetic chemicals produced in the world. This article explores the evolution of ammonia production and describes the current manufacturing technologies.
REACTIONS AND SEPARATIONS
Minimize Biofouling of RO Membranes
Chemical and physical disinfection of feedwater to a reverse osmosis (RO) membrane helps to prevent fouling and maintain efficient operation.


Update
RO Membrane Cuts Energy Consumption of Separations
Breathable Nanofabric Could Protect Against Biothreats
Lab-on-a-Chip Mimics Muscle-Nerve Connection
Nanorobots Take the Direct Route to Tumors
Microbes Make Highly Conductive Nanowires
Biomaterial Heals Diabetic Wounds
Computational Method Sheds Light on Fuel Cell Chemistry


Plus
AIChE Journal Highlight: Tribute to Founders: Roger Sargent
Technical Entity Trends: Plant Synthetic Biology Takes More Than a Green Thumb
Catalyzing Commercialization: Transparent Panels Open a New Window for Solar Energy
Patent Update: Issues to Consider in Claiming Your Invention
Process Safety Beacon: Do You Recognize Change?
Young Professionals Point of View: Get Back on Your Feet After a Layoff
Product Focus: Fluids Handling
Software
Books
AIChE 2016 Annual Meeting Preview: Nov. 13–18, San Francisco, CA
Calendars
Institute News

Theodorou will Deliver Prausnitz Institute Lecture at San Francisco Annual Meeting, Nov. 16
AIChE Signs Memorandum of Understanding with Japan's Society of Chemical Engineers
AIChE Election Opens Sept. 6
Virtual Local Section Explores Constitution Changes, Sept. 22
Your AIChE Membership: Member Credits
AIChE 2015 Financial Statements


The September 2016 issue of CEP is now available online. AIChE® members receive access to CEP, including a searchable archive of issues dating back to 2001, online at http://www.aiche.org/cep.