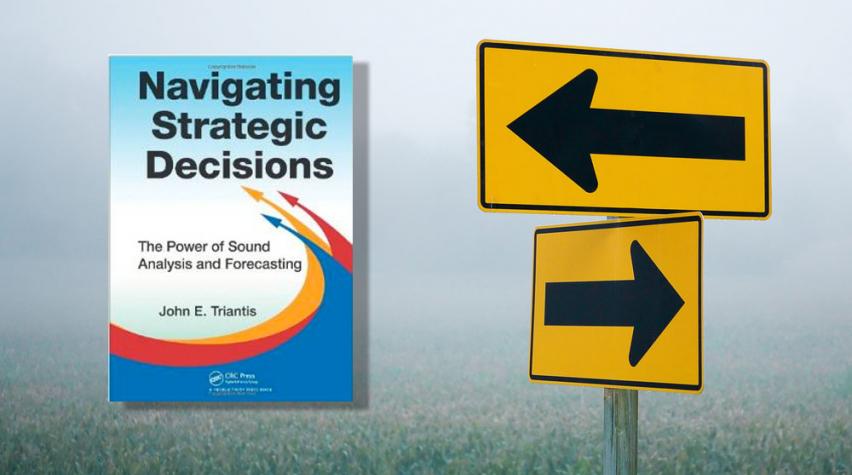 Navigating Strategic Decisions: The Power of Sound Analysis and Forecasting by John E. Triantis. CRC Press, 2013. 405 + xxix pages. US$104.95 (hard cover).
Every day we make decisions. Many of our decisions are minor: what to wear, what to eat for lunch, and what television show to watch. Yet as chemical engineers, we also make daily decisions that impact the productivity of an operating unit as well as protect the safety of our co-workers and those in the communities in which we work.
Other decisions are made as part of a team. These strategic decisions often result in major impacts to a business: setting corporate policy, developing a new product, and engaging in a merger or joint venture. In cases such as these, relying upon judgement and experience alone is not enough. Instead, the team must utilize special skills in strategic decision forecasting.
Navigating Strategic Decisions, by John Triantis, offers a new paradigm to build teams and a mindset for strategic decision forecasting. First, he explains, any decision that will be implemented more than a year into the future is strategic (pg. xix). Next, strategic decision forecasting is defined as a "broad discipline focusing on the analysis, development, and validation of long-term forecasts that form the basis of major business decisions" (pg. 3). Finally, a structured approach to strategic decisions helps to manage stakeholder expectations and drive organizational improvements (pg. 7).
The book is divided into four parts. Part I defines strategic decision forecasting, outlines flaws in current practices, and identifies characteristics of successful strategic decision forecasting teams. Part II discusses organizational culture and tools/techniques useful in preparing a strategic forecast. Part III makes up more than half the text and contains specific direction for building strategic forecasts in several different situations: corporate policy, new product development, new business, merger and acquisition, licensing, and project financing, for example. Finally, Part IV wraps up with guidance in forming the strategic decision forecasting function within a company and an overall summary of the book.
Engineers will be familiar with many of the strategic decision forecasting tools and techniques because they overlap quality and risk management. For instance, cause-and-effect diagrams (pg. 82), total quality management (TQM, pg. 84), SWOT analysis (strengths, weaknesses, threats, and opportunities, pg. 86), and five whys (pg. 90). Other tools are similar to those of project management, such as RACI models (responsible, accountable, consult, inform, pg. 102), Gantt charts (pg. 102), and decision tree analysis (pg. 103).
Admittedly, this is a difficult book to read cover to cover. The author includes a vast amount of theoretical resources, long descriptive lists, and repetitive emphasis of key points. Most significant is a lack of practical examples in which the application of strategic decision forecasting is detailed in a success story. On the other hand, the author's intent is to demonstrate the need for a new field of study to improve long-term forecasting and planning across a wide range of business situations.
Engineering managers and business planners will find value in Navigating Strategic Decisions. In particular, reading Part I and then selecting the case of interest of Part III can assist a manager in framing and analyzing major strategic business decisions.
What is the largest strategic decision looming in front of your industry today?