Like America's aging baby boomers who came of age professionally during the 80's and 90's, many offshore oil platforms are headed for quick retirement, the industry's version of rushed hospice care. In decline for years, water injection and CO2 flooding have coaxed out the last drop of oil, and now they've finally stopped pumping. So what's next? Overcoming the last stage of grief (tertiary oil recovery), companies have to dispose of the hulking, metal carcasses.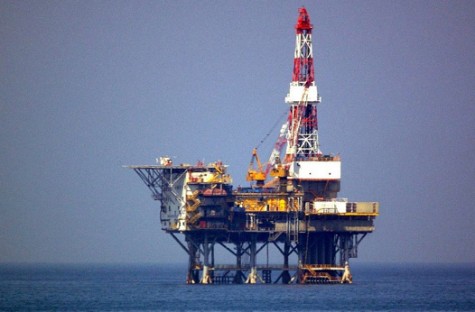 Typically they pay to have the topside hauled to shore, then refurbished or recycled. Afterwards, the platform is severed 15 feet below the seabed, removed and sold as scrap. Costs can run as high as $200m to finish off a big deep-water platform - $700,000 thrown away each day as a derrick barge performs last rites.
Regardless of the high costs, decommissioning off shore oil platforms is now a rapidly growing business. Globally, producers spent nearly $4 billion retiring rigs in 2013, with over 600 platforms currently eligible in the Gulf of Mexico alone. According to Reuters, oil services companies are already upgrading equipment as they anticipate a market worth $50 billion over the next 30 years. That's a lot of dead money. But there is an alternative: leaving most of the well's structure exactly where it is, permanently attached to the sea floor. This isn't a dead-beat's fantasy either.
Living on a towering artificial reef
The US government wants these white elephants "reefed," not wrecked. The federal Bureau of Safety and Environmental Enforcement (BSSE) urges states to issue reefing permits to bring a platform's above-water parts ashore and chop the lower structure down far enough so ships can pass over safely, while still allowing sunlight to supply a thriving ecosystem that harbors everything from the simplest invertebrates to large game fish within a towering artificial reef. And the states assume liability. This type of retirement is closer to Leisure World's unlimited golf, tennis, and '70s disco nights.
Because it has become a win-win situation for oil companies to pay state governments half the money they save by reefing, more than 490 platforms in American waters have become reefs over the last thirty years.
Small, shallow water platforms can often be removed for as little as $10m to $1m, which has quickly padded out state budgets, reported the Economist. Mississippi made $625,000 for each of the 12 permits it issued, and Louisiana averaged $270,000 per reefing - 336 of them.
Currently, less than a tenth of America's retired platforms are reefed. Sometimes the reasons are practical. For example, platforms are removed if waiting for a permit means getting knocked down during hurricane season. While operators prefer reefing, it's not always economical or allowed, says David Welch of Stone Energy Corporation. His firm has only reefed 12 of its 60 decommissioned Gulf of Mexico platforms. Regardless, the pace will pick up and within five years oil firms will be reefing one offshore rig in four, predicts Quenton Dokken of the Gulf of Mexico Foundation, a conservation group.
In the meantime, Gulf state residents enjoy an unintended consequence from the thousands of platforms in the gulf, a multi-billion dollar sport-fishing industry. The Gulf's natural seafloor is actually a vast stretch of mud and sand dotted with the occasional reef, which severely limits the abundance of reef fish. But the 3,000 structures in the Gulf - both those in production and reefed - have created a bounty of aquatic life, including lager game fish like Red Snapper, which were nearly fished out thirty years ago.
Controversy in the Golden State
Four years ago, California also passed a law to allow reefing. It's estimated that reefing the state's 27 platforms would save $2 billion and could start as early as next year.
Cal State professor of marine biology Chris Lowe, who advised California on its reefing law, examined the platforms in the Santa Barbara Channel for more than eight years and feels that the rigs are necessary and provide a healthy incubator for marine animals. The bocaccio, a rockfish whose dwindling numbers are worrying, is one beneficiary.
None the less, the odds of creating a single rig reef looks nearly hopeless. Public opposition is widespread and vocal. So far, not even one platform has been reefed. According to the Economist, activists quote the findings of...
James Cowan, an oceanographer at Louisiana State University, who studied isotopes, tissue caloric densities and the stomach contents of creatures from both natural and artificial reefs and concluded that the latter generate no extra biomass.

The Environmental Defense Center in Santa Barbara advocates the complete removal of oil platforms, saying that abandoned structures might damage anchors, rob natural reefs of fish and even leach poisons.
Off limits in the North Sea
Ultimately, the North Sea could end up being an all you can eat buffet for decommissioning. Ever since Greenpeace occupied the Brent Spar platform in 1995 to protest the practice of dumping unused platforms to the bottom of the sea - and kicking up a storm of bad publicity - the area's 500 oil rigs and 45,000 km of pipelines have been off limits to reefing. But now many of the graybeards are ready to be removed.
When Shell awarded Swiss-based Allseas Group the contract to remove the topsides of three of its Brent platforms in the North Sea using the new Pieter Schelte, a $3 billion, high-stakes bet that will leave South Korean shipyards in October, it captured media attention around the industry.
Now, according to Decomworld, to meet increasing demand, Allseas has already decided to build an even bigger vessel. Still unnamed, it will be able to remove all of the topsides in the North Sea which are beyond the capability of the the twin-hulled, 1,253-foot-long sister ship, Pieter Schelte.
Images: Gulf rig, tsuda; California rig, Nandaro