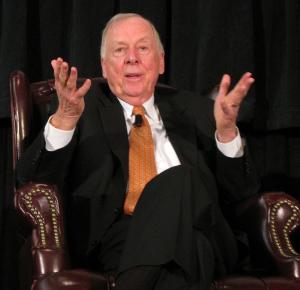 As fracking and horizontal drilling push US natural gas output higher, and new, strict environmental regulations kick in, the global merchant fleet has begun to switch from traditional bunker fuel to cleaner, liquefied natural gas.
To supply and spur this new trend, General Electric and Clean Energy Fuels, a company co-founded by T. Boone Pickens, will begin building the country's first LNG station for cargo ships in the port of Jacksonville, Florida. (press release)
While the US already has about 60 small-scale liquefaction plants, none are close enough to the water for ships to use. The new Jacksonville facility will produce approximately 300,000 gallons of LNG per day to support maritime, rail and many Southeastern trucking fleets.
Construction of the Jacksonville facility will begin in the second quarter of

2014 and should be completed in late 2015.
Jacksonville has emerged as a leading maritime LNG hub because local shipping companies have increased orders for LNG-fueled ships to use in the Caribbean as they prepare for the enforcement of the North American Emission Control Area in 2015. The law effectively bans bunker fuel within 200 miles of the United States.
A paradigm change
At the same time, Shipping Watch reported that LNG engine manufacturer W?rtsil? (press release), will build the world's first two container ships to operate primarily on LNG for US carrier Crowley Maritime Corporation.
"This holds enormous potential, says Jacob Thygesen, head of global commercial activities at W?rtsil? Ship Design, adding, "I think this will be a paradigm change in the container industry, and ten years from now I doubt that there'll be any conventionally driven container ships left."
The two LNG container ships ordered by US carrier Crowley Maritime Corporation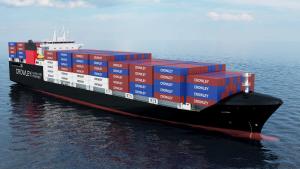 will be built at an American shipyard in Mississippi under the Jones Act. Jacob Thygesen told Shipping News that he thinks that the transition to LNG engines will soon pick up:
"Conventional fuels are on the way out because they pollute too much, and there are various steps necessary in order to make engines comply with the regulations that are being passed. If you want to make sure your ships is future proof, you buy a straight gas solution or a combined solution that includes gas..."
Huge demand
The first LNG-fueled ship, a Norwegian ferry built in 2000, is one of 42 in operation worldwide, out of about 60,000 merchant vessels. Tankers hauling LNG have long used it for fuel through a process known as boil-off.
The global fleet of 42 LNG-powered ships will almost triple by next year and increase 42-fold to almost 1,800 vessels by 2020, DNV GL, which certifies the merchant fleet for

safety, reported to FuelFix.
Previously, ship owners had started switching to lower-sulfur diesel from bunker fuel in northwest Europe and North America because of anti-pollution rules phased in since 2005. But LNG cuts sulfur emissions by 90 percent to 95 percent and also releases less carbon dioxide and nitrogen oxide.
Cost is also a factor. LNG ship fuel would cost about $800 a ton in the U.S., $1,000 a ton in Europe and $1,200 in Asia, according to estimates. That compares with global prices of $1,300 for an equivalent amount of diesel and $950 for fuel oil with scrubbers.
This new industry is still in the chicken-and-egg phase. Many ship owners are waiting for more harbors to add equipment, and gas providers want more vessels built, according to MAN Diesel & Turbo SE, the largest maker of ship engines.