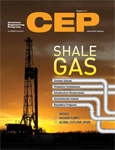 SPECIAL SECTION ON ENERGY:
Addressing the Challenges Along the Shale Gas Supply Chain
This 32-page special section on shale gas spans the supply chain, from wells, gathering lines, and processing facilities, to storage, transportation and distribution pipelines, and ultimately an end user, such as an industrial manufacturing plant or a single-family home.
Demand Outlook: A Golden Age of Natural Gas
The shale gas boom in the U.S. is transforming the energy marketplace and a wide range of manufacturing industries that rely on natural gas.
Getting the Gas Out of the Ground
Technologies developed in the oil and gas industry over the past 60+ years are now being used to produce shale gas.
Expanding the Shale Gas Infrastructure
Development of U.S. shale gas resources will require expansion of infrastructure assets ranging from roads and rails to pipelines and seaports to power-generation plants and ethane crackers, and more.
Environmental Considerations of Shale Gas Development
The impacts of shale gas development on land, air, and water resources can and must be managed through sustainable operating practices.
Regulatory Programs Governing Shale Gas Development
The production of natural gas from shale is subject to environmental regulations, including a combination of requirements already followed by conventional gas developers, plus new ones specific to shale gas.
AIChE JOURNAL HIGHLIGHT
EDITOR'S NOTE: For the first time, CEP and the AIChE Journal are co-publishing slightly different versions of the same article.
ChemEs Get Schooled in Sustainability (click here to read this article now)
Sustainable design will be required if the world is to support a growing population with increasingly higher living standards.
COMMENTARY: Take Advantage of Wireless Devices
Wireless technology should not be pushed aside because of the challenges related to the lack of a single standard.
BACK TO BASICS: Choosing Process Vacuum Pumps
Vacuum pumps are an integral part of many industrial facilities. Both processing objectives and budget constraints must be considered when selecting a specific pump.
GLOBAL OUTLOOK: Spain's Chemical Industry from the 19th Century to the Present
In the wake of the mid-20th century emergence of the oil-based global chemical industry and the rise of Europe as an international market force, Spain's chemical industry has become modern and competitive.
News: High-Carbon Diet Ramps Up Oil Production in Algae ... Firefly-Semiconductor Hybrid Lights Up ... Ionic Liquid Improves Hydrogen-Producing Catalyst ... Get the Skinny on Solar Cells ... Smart Material Stays Cool in the Heat ... One-Pot Synthesis Yields Zeolites at Bargain Prices ... Chem Economics: New Chemical Activity Barometer Signals Future Economic Trends ... and more.
Plus: Meeting Preview: Annual Meeting Will Spotlight Energy and Water ... What's New ... Spotlight on Safety: Management of Change -- It's Not Just for Work, but for Your Private Life as Well ... Process Safety Beacon: Hot Work Hazards ... Software ... Product Digest: Solids Handling ... Books ... Institute News: President's Corner, Ammonia Symposium, Member News, Calendar ... Profile: Engineering Flavors and Bridging Cultures -- Winnette McIntosh Ambrose.
The August 2012 issue of CEP is now available online. AIChE members receive access to CEP, including a searchable archive of issues dating back to 2001, online at http://www.aiche.org/cep.