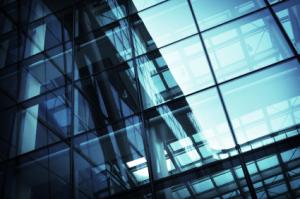 The scientists and engineers at Corning are proud of their work, but while that work has frequently changed the way we view the world, it often goes unnoticed. How so? Just think how many times a day you slide your finger across a touch screen or peer into a flat-screen television or monitor without giving it a second thought. That's exactly what's intended. Today's consumers demand sleek minimal aesthetics and seamless interfaces that practically disappear to the user, and many of them are made possible by glass.
While you may not think much about glass as you use many of the devices it enables today, Corning created a short video to bring awareness to the kinds of technology that glass products could help make possible tomorrow (you can view the video in the panel at right).
Today's fantasy is tomorrow's reality
Originally created to inspire employees to think about glass's future applications and to communicate the company's vision to shareholders, the video was so well received the company decided to share it with the public. For viewers outside of Corning, one of the most common questions people have seeing the video is, whether any of these devices are already on the market or, at least, coming soon. To get an answer to that question, I spoke to Dr. Peter L. Bocko, chief technology officer, Corning Glass Technologies. Dr. Bocko served as technical advisor for the video. "While the technology shown in the video doesn't exist yet," he explained, "we could imagine these examples simply by extrapolating from technology that currently exists, with few exceptions."
Dr. Bocko also pointed out that Corning doesn't expect to be the creator of all these technologies, but it does expect to be a part of them by partnering with others to make them a reality. "It's not that this vision is unique to Corning, it's just that glass is the gracious host for these many technologies."
Commenting on the video, Dr. Bocko notes that three main areas of Corning's innovations could contribute to the new types of technology like those shown in the video: substrates for LCD displays; glass components for touch screens; and fiber optics, which supply data to the devices.
How chemical engineers fit into the picture
For chemical engineers, the next question is clear: what role will chemical engineers serve in developing new technology? "It turns out that chemical engineers are some of the most versatile employees at Corning," says Bocko, who pointed out that their training prepares them to be adaptive and useful in nearly all facets of the company.
Recently, the company made a major investment that focuses on chemical engineering as a source of innovation. Dr. Andre R. Da Costa, chemical engineering manager of ?manufacturing technology and engineering at Corning, is leading the initiative with the creation of a center of excelling for chemical engineering within the company. "We're trying to go beyond using chemical engineers in conventional ways," says Bocko. "We see them in a variety of disciplines as versatile contributors and leaders for delivering technology."
To make this happen, Da Costa is working with technology leadership as well as with the company's engineering and research organizations to make chemical engineering a focal point as early as possible in the innovation process. "As people identify products for development, we want to look at the types of processes that will be needed so that we can get the maximum benefit from saying, 'this is the how it works in another industry,' or 'this should be the approach that we use.' "
Beyond consumer electronics
Corning clearly has a strong focus on high-growth consumer electronics, as the video indicates, and chemical engineers will play a strong role in developing products that will enable them. Bocko notes, however, that Corning is interested in pursuing opportunities in a wide variety of glass applications.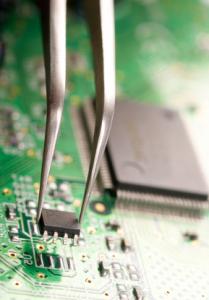 In the area of alternative energy sources and the environment, the company hopes to develop advanced glass substrates and superstrates for photovoltaic technology for thin-cell photovoltaic. It's also interested in CO2 capture.
In the field of semiconductors, three-dimensional integrated circuitry is quickly gaining market importance, and the manufacturing process requires glass as an essential component (read about Intel's advances in 3D chip design). Bocko also added that the life sciences also present numerous areas of interest for the company.
From something as seemingly simple as glass, clearly the future holds many new advances and technologies. And fortunate for us, it looks as though chemical engineers will play a critical role in making these advances a reality.
Photos: Dr. Peter Bocko, Corning; others, iStockphoto