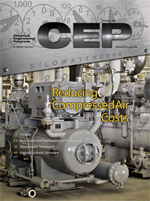 Back to Basics:
Understand the Fundamentals of Wastewater Treatment
Wastewater treatment technologies range from membrane filtration to UV radiation to activated sludge. Compare their advantages and disadvantages to select the appropriate methods for your application.
Instrumentation and Automation: Using Automation to Produce Quality Pharmaceuticals
Automation can pay large dividends in the form of reduced process cycle times, lower operational costs, and more-consistent processes for manufacturing high-quality products.
FLUIDS AND SOLIDS HANDLING: Reduce Your Compressed Air Costs (Members can read the article here.)
Annual operating expenses for compressed air systems can exceed the equipment's purchase price. Follow these seven steps to implement efficiency measures that yield cost reductions.
Global Outlook: Chemical Parks: Industry Landscaping ? la Germany
Chemical parks are synergistic environments for the companies located there -- thanks to integration of infrastructure and shared resources and distribution networks. In Europe, Germany's central location and unique geography have contributed to the success of the chemical park concept.
News: Li-Ion Batteries Are Getting A Makeover ... Engineers Create First Fully Stretchable Organic LED ... Nanowires Hold Promise for Future Solar Cells ... Handheld Microscope Uses Holograms Instead of Lenses ... Chem Economics: Are We Destined for a Double Dip?
Plus: Patent Update: The New Patent Law: Looking Under the Hood ... What's New: Chem Show Expo Preview ... Process Safety Beacon: Hose Hazards ... Bio Beat: To Bio or Not To Bio? Electrofuels Might be the Answer ... Product Digest: Plant Maintenance ... Institute News: President's Corner; Institute and Board of Directors' Awards; Midwest Regional Conference; Member News; Calendar ... Profile: Design for Leading -- Ganesh Kailasam
The October 2011 issue of CEP is now available online. AIChE members receive access to CEP, including a searchable archive of issues dating back to 2001, online at http://www.aiche.org/cep.