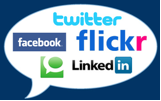 Since Linkedin was launched in 2005, social media has increasingly played a role in our lives, both personal and professional. A recent New York Times article discussed the idea of how you influence people - or don't - based your social media reach.
We know we reach the ChEnected community of engineering professionals via a variety of social networks, such as Twitter, Facebook, and LinkedIn, to name a few. That got us thinking: how are engineers using these tools - and more importantly, why?
So we'd like to find out how you're using social media and where it's been of value to you. We'll report on our findings in a series of CEP articles and ChEnected posts, starting in early 2012.
Please take two minutes and share your insights by answering our short questionnaire. We may just quote you in an upcoming article or blog post!