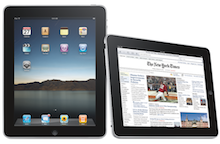 We'd like some feedback on how to make ChEnected better. ChEnected is only four months young. Our first authored post--Should you go Broad or Deep?-- was on February 26, 2010. Since then our goal has been to post every weekday in order to build a community of chemical engineers creating and engaging with interesting, relevant content.
As you may have seen, we're currently running a contest called Get ChEnected and Win an iPad. You should familiarize yourself with the details of the contest but essentially there are 3 Ways to Win--being the most prolific commenter/contributor to ChEnected, illustrating your definition of "ChEnected in the Real World", and finishing this sentence:
ChEnected Would be Better If..... Your Suggestion Here
You can post your sentence on our Facebook Page, on Twitter (include @ChEnected and #WiniPad) or by commenting right on this post. Of course, we'd love it if you commented here and then shared it to Facebook or Twitter too! We'll take all of your suggestions into consideration but they may not all be implemented. The best idea will be selected from among all submissions by a panel composed of ChEnected's advisory board. Try to be concise and clear when composing your suggestion.
A few suggestions that have come up so far include:
@ChEnected would be better.... if it had more quizzes #WiniPad
ChEnected would be better.... if it had a forum for free posting that worked in conjunction with the blog
Let us know what you think. And if you'd like to be considered for the contest, make sure you read the details and register to be eligible.