(8k) Metabolic Modeling for Improved Bioprocess Efficiency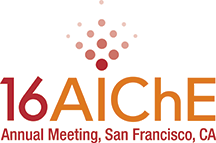 Conference:

AIChE Annual Meeting

Year:

2016

Proceeding:

2016 AIChE Annual Meeting

Session:

Time:

Sunday, November 13, 2016 - 1:00pm-3:30pm
Research Interests:
Microbial fermentation plays a critical role in efforts to enable
sustainable manufacturing of commodity chemicals, and the economic feasibility
of the integrated biorefinery concept hinges sharply
on the productivity, yield, and titers that can be achieved by metabolic hosts.
Flux balance modeling has emerged as a fundamental tool in pushing biological
transformations towards profitability, as it enables model-based design of gene
knockout and overexpression efforts. My interests
center on the unbiased search of intervention strategies for models of central
carbon metabolism, together with the consideration of the dynamic systems which
govern metabolic flows within the network.
<146.95pt>
ÒÓ
<12.0pt none><15.0pt none>
<15.0pt none><15.0pt none>
<12.0pt none>
<12.0pt none>
<12.0pt none>
<12.0pt none>
<12.0pt none>
<12.0pt none>