(710c) Natural Language Modelling in Process Synthesis and Optimization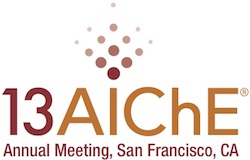 Conference:

AIChE Annual Meeting

Year:

2013

Proceeding:

2013 AIChE Annual Meeting

Session:

Time:

Thursday, November 7, 2013 - 3:53pm-4:12pm

Natural Language Modelling in Process Synthesis and Optimization

Vassilis Magioglou1, Antonis Korkofigas2, Marinella Tsakalova1 and Antonis Kokossis1
(1) School of Chemical Engineering, National Technical University of Athens, Greece
(2) School of Electrical Engineering, National Technical University of Athens, Athens, Greece
The paper addresses the development of synthesis and optimization models with the use of natural languages in replacement of conventional modeling environments (e.g. GAMS, AMPL). The approach deploys ontologies and enables the integration of data from different resources, the re-use of generic mathematical formulations, and the deployment of object-oriented models. The approach is illustrated for the design of biorefineries and scheduling operations.
Concerning bioenergy and biomass, there is a large list of available knowledge, data and models from heterogeneous sources. Data include i) biomass feedstocks (cornstover, wood, municipal solid waste etc), ii) technologies, iii) intermediates and products (Alcohols, Esters, Alkanes, Alkenes, Oils etc), iv) product and feedstock properties and v) other data. Technologies include fermentations, gasifications (direct, indirect), transesterifications, digestions petrochemical conventional processes (synthesis, methanol to olefins etc). Product and feedstock properties include components, temperature, pressure, purity. Data also include geospatial data, economic data, map products, life cycle analysis data, gas emissions, energy data. The list is continuously expanded and augment.
The paper explains the use of ontologies to integrate and automate decisions, also to automate the synthesis of superstructrures. Illustations include 82 different chemistries that lead to the production of more than 80 intermediate and final products based on biomass. The use of ontologies explains means to systematize the development of the superstructure, to customize features, also to invoke and optimize for the preferred paths and technologies.
The work is extended to include scheduling and planning problems.