(739c) Systematic Study of Charge Transfer between Catalytic Au Nanoparticles and Support and Its Implication for CO Oxidation
AIChE Annual Meeting
2020
Wednesday, November 18, 2020 - 8:30am to 8:45am
Catalytic activity of gold nanoparticles (NPs) supported on various oxides has been observed for various reactions. Strong metal-support interaction (SMSI) between metal NPs and supports is one of key factors explaining improved catalytic performances of these particles. Various studies of the mechanisms of SMSI contributing to enhanced activity suggested that electron transfer from support to NPs plays an important role.
In this work, we deposited Au NPs on SiO2/Si substrates (n-type, Fig 2. (a)) using Helium Nanodroplet Deposition (HNDD) method (Fig 1.), which can produce very clean Au NPs with narrow size distribution (~2 nm). By designing the novel Au/ SiO2/ Si system, we tuned a charge transfer between Au NPs and Si to understand its effect on CO oxidation. We found that the onset temperature for CO oxidation has decreased with increased charge transfer.
Fig 1. shows the simplified structure of HNDD system. A beam of helium nanodroplets expanded from low temperature nozzle and then captured vaporized Au atoms, which then formed NPs within the droplets. These nanoparticles were then deposited onto Si wafers modified with variable thicknesses of SiO2 layers.
The structure of Au/ SiO2/ Si system and the proposed mechanism are depicted in Fig.2 (a) - (b). In the absence of SiO2 layer, a heterojunction is formed based on the work function difference between Au and n-silicon. More specifically, positive charges tend to accumulate at the surface of Si with the band bending to higher energy while negative charges tend to accumulate at interface of Au NPs. By varying the thickness of SiO2 layer, the amount of negative charges can be finely controlled. To verify this mechanism, the samples were characterized by XPS and TPD. XPS data for Si 2p and Au 4f7/2 (Fig.2 (c) and (d)) binding energies show that peak positions moved toward lower binding energy with thinner SiO2 layer, indicating more charges accumulate on both sides of SiO2 layer as it becomes thinner. Fig.2 (e) demonstrates the onset temperature of CO oxidation as a function of the SiO2 thickness. The onset temperature of CO oxidation decreased as the thickness of SiO2 layer became thinner, coinciding with shifts in BE.
By creating a model of Au/ SiO2/ Si, we systematically studied charge transfer between Au NPs and support, and its effect on CO oxidation. This study highlights the importance of this mechanism on catalytic reactions, which can guide a development of the next generation of catalysts for environmental protection.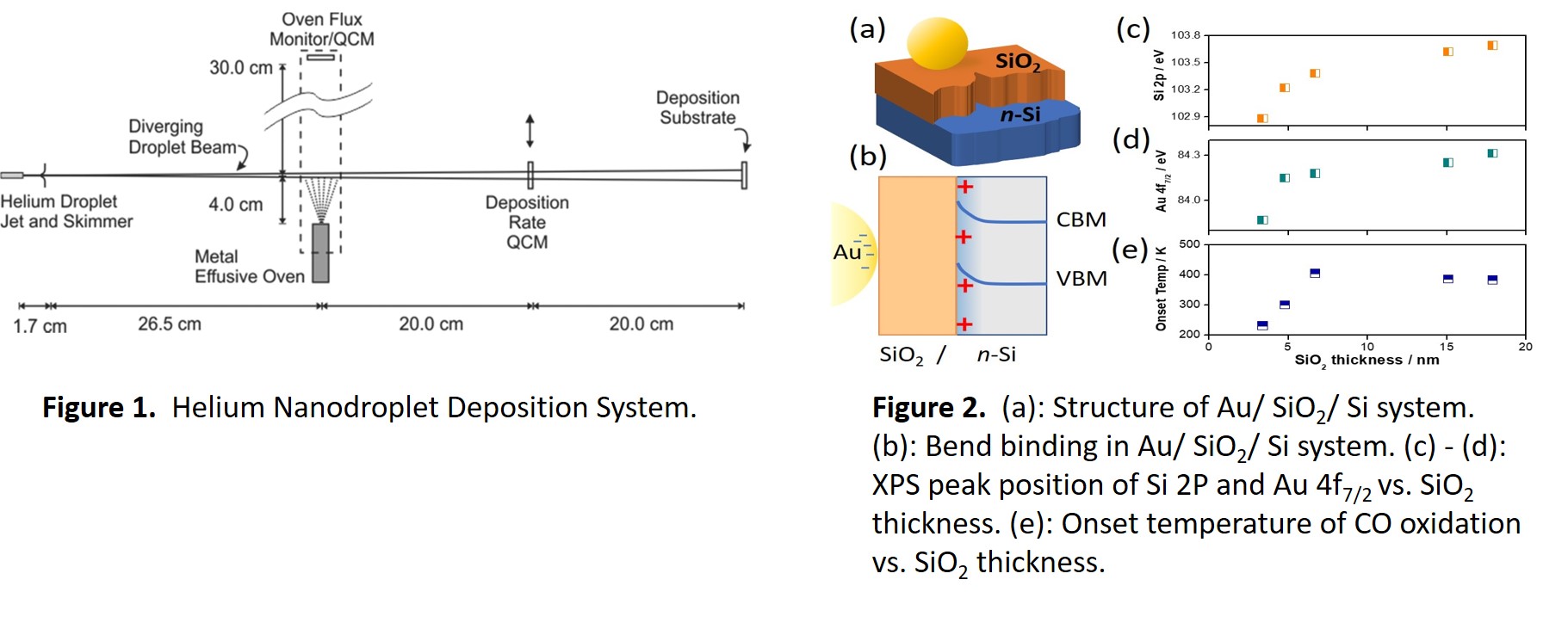 Topics