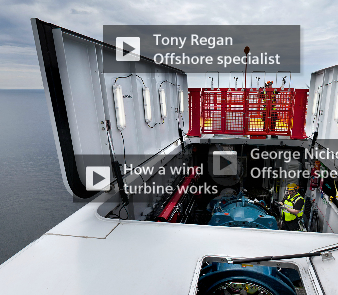 If you've ever wanted to see and experience (with seductive sound) one of the world's most promising renewable energy sources firsthand, Siemens has built a cutting edge 360? interactive tour that puts you high above the ocean on top of a wind turbine. Click to begin the tour.
Warning: productivity killer
By zooming and scanning the image, then calling up embedded videos and text, you'll get a quick history of wind power and Siemens, crew jobs and turbine technology; effortlessly jump to the factory floor to get background on manufacturing; finally, another click sends you to either blade production or optimization. Once you're done, you'll understand the vast scope of this enterprise, making the first image - horizon-to-horizon wind farm - an apt metaphor. This is why the internet was invented.
Photos: various (screengrabs), Siemens