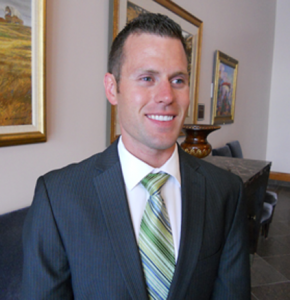 I began my higher education at Snow College in Ephraim, UT. I always knew I would be an engineer, I just didn't know what type yet. One day, I was thinking about interests and goals and decided that I wanted to learn more about chemistry. I took general chemistry and fell in love with it and decided that chemical engineering would be perfect discipline for me. After graduating as the only chemical engineer among my peers at Snow College, I transferred to the University of Utah and began on the fast pace as a BS/MS student. I finished my undergraduate degree requirements in May 2010, and I will finish my graduate school requirements December 2011. I have completed two internships and one graduate research position during my education. First, I worked for the Department of Fish and Game for the Fish and Wildlife Water Pollution Control Laboratory in California. My main responsibilities in this position were to extract and prepare water, sediment and tissue samples for trace level Polycyclic Aromatic Hydrocarbons PAHs. My second internship was with Celanese in their Research and Development sector, where I improved product application through research and self-designed experiments. In my graduate research position, I currently work for the Institute of Clean and Secure Energy performing and improving verification, validation, and uncertainty quantification for simulations of oxygen-fired gas burners. I am excited to enter the professional realm of chemical engineering at the end of this year. I look forward to exciting opportunities and feel that my education and leadership skills provide a solid foundation for a future in project management and technical analysis. I hope to have a successful and fulfilling career in the chemical engineering industry and am anxious to continue my membership as a Young Professional in AIChE.
Below is my interview with Brandon:
Felicia: Where are you from? Brandon: Salt Lake City, Utah. Felicia: Where did you complete/are you completing your chemical engineering education? Brandon: I started my chemical engineering education at Snow College in Ephraium, UT, and I finshed my bachelors degree at the University of Utah. I will also finish my master degree in Chemical Engineering from the University of Utah. Felicia: How long have you been a member of AIChE? Bandon: I have a member of AIChE since I found the local student chapter at the University of Utah, (4 years). During my involvement in AIChE, I have performed several roles including being the student Chapter President at the University of Utah. Additionally, I was the Student Chair of the Host Chapter for the 2010 National AIChE Annual Student Conference. I am also currently on the Young Professional Advisory Board and serve as the K-12 Liaison. Felicia: What company/institution do you work for? Brandon: The Institute of Clean and Secure Energy, as a graduate research assistant. Felicia: Describe a recent challenge you managed, notable achievement, or obstacle you overcame at your job or in your work as an AIChE member? Brandon: Being in AIChE has helped me want to be involved as a leader in my job and in future AIChE endeavors. For the 2011 year, I have been elected to be the Graduate Student Advisory Committee (GSAC), chair. And, from time to time, professors in the Chemical Engineering department are voted on by the students for Retention, Tenure, or Promotion. During the 2011 school year, there were three professors that needed to be evaluated by the GSAC. Two of the professors had votes by the students, with a clear majority of what they wanted for those professors. The votes from the students for the third professor, however, did not show a clear majority. Being the Chair I needed to come up with a solution and a vote to represent the voice of the graduate students. This was a challenge because of how strongly how the students felt for the way they voted individually. In order to overcome this difficult challenge, I held a committee meeting to address the v otes on the third professor. I am fortunate to have a great committee and through our open discussion about the votes of the students and the future of the department, we came to a decision. I'm confident that listening to others and devoting time to this problem helped my committee and I work through this complex situation. Felicia: What do you do to meet people in your field? Brandon: I attend AIChE National Conferences as well as dinners, banquets, and special speaker events presented by the department of chemical engineering. In addition I attend information sessions hosted by different companies and job/career fairs. I am not afraid to start a conversation with someone, find out who they are and to get to know them better. In doing so I have always found remarkable people in my field. Felicia: Tell us a little bit about yourself... Brandon: My favorite recreational activity and past time is swimming. I am a member of a local USA masters swimming club and compete in local swimming meetings, the last meet I competed in I won gold medals in all my events. I am the Vice President of the Utah Chapter of SCHAP, a non-profit organization, which trains willing and committed volunteers; dispatching them with the skills and understanding necessary to make real impact and sustainable progress with partner organizations in developing communities. Some of my favorite sports are Skiing here in the "Best snow on earth" (Utah), and wakeboarding. If there is a job that allows me to cook and be a chemical engineer I would sign up, because I love to cook. Felicia: Where would you like to ChEnect with Readers? Brandon: My LinkedIn profile.