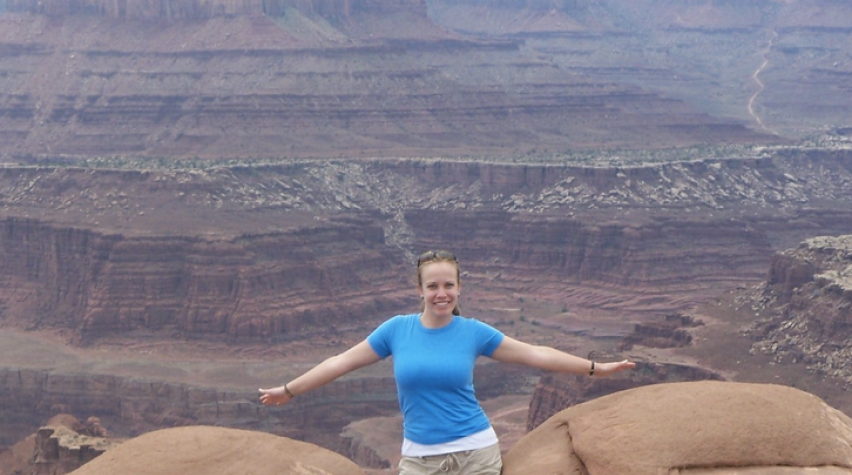 Nicole Rasmussen is turning 26 this month and getting married in four. She graduated four years ago from the University of Arizona in Tucson, AZ. After college she moved to Elko, NV to work for Barrick Goldstrike Mine, Inc. While in Elko she met her fianc? who is a mining engineer with the same company. Even though moving was a fun adventure, she definitely misses the warm Tucson winters without the chore of shoveling snow-it actually snows through April in the high desert! Nicole first got involved with Young Professionals in AIChE at the spring meeting of 2008 in New Orleans, LA. Barrick sent her for the ACS/AIChE joint conference and she used her time there to take a day-long session of multiple presentations geared specifically to young professionals. This is where she met Brain Daly who got her involved with the Young Professional Advisory Board. That evening included a social for young professionals that was a blast. You might think that's because they were in New Orleans, but the people were friendly and welcoming and made the whole trip a good time even though she'd traveled there by herself. Since then she's remained active in AIChE YPAB by attending Annual Student Conferences, Regional Student Conferences, spring conferences, and most recently acted as chair for YPAB. This may be a little obvious, but one of her favorite parts about being in AIChE is attending the various conferences. It's amazing to see all of the incredible work and research that so many people are doing and the compassion people have for making our world a better place for mankind and the environment. She also likes networking with other young professionals from all over the country because it's always fun to socialize with other ChemE's. Nicole also stays active within the community. Currently, she plays on a co-ed volleyball team, and come late summer she'll play on a co-ed softball team. She's also working on her public speaking skills with a local Toastmasters group. This is a work in progress, with her second speech the first week of April. She was also a girl scout for 13 years growing up and has continued with that organization by becoming a brownie troop leader. She enjoys taking classes at the local community college like tennis, Spanish, and watercolors. What she is most excited about is getting married and starting a family with Mark.
Felicia: Where are you from?
Nicole: I was born in San Diego, CA and moved to Tucson, AZ in 1993 where I grew up and went to school. Now I live in Elko in northeastern Nevada.
Felicia: Where did you complete your chemical engineering education?
Nicole: I graduated from the University of Arizona with a bachelor's degree in chemical engineering in May 2007. 
Felicia: What company/institution do you work for? 
Nicole: Since graduating, I've been working for Barrick Gold at the Goldstrike mine. I spent my first two years as a plant metallurgist working at the wet mill. I spent one year as a support metallurgist for a large capital project. Currently, I work in the metallurgical lab as part of Metallurgical Services. I also spent the last year as the chair for the Young Professionals Advisory Board for AIChE and have been the representative for the group to the Career and Education Operating Council.
Felicia: Describe a recent challenge you managed, notable achievement, or obstacle you overcame at your job or in your work as an AIChE member?
Nicole: This past year I was chair for YPAB. When I first started Spring Meeting 2010, we wanted to define roles within the group because we were still expanding and wanted members to have defined functions within the group. With this I developed the first organization chart for YPAB so that everyone could understand the structure and where they fit. This helped throughout the year, as various events came up the workload was distributed and everyone contributed in one way or another. I also worked on generating a detailed database of members including location and industry to show the diversity within our group. My next focus as past chair is to spearhead finalizing our bylaws and getting committee approval from CEOC.
Felicia: What do you do to meet people in your field?
Nicole: I like going to the national AIChE meetings to meet people in chemical engineering. I'm in mining and live in a very small town in northeastern Nevada and don't get to meet too many ChemE's around town. I like the YP events at the meetings because it instantly gives me something in common with others in the room and that makes it easier for me to network. I also like being involved on the national level because it gives me the opportunity to be exposed to a wide breadth of professionals. 
Felicia: Tell us a little bit about yourself...
Nicole: I love to travel! I've been to Western Europe twice for month-long trips. Once with a tour group called Contiki and once backpacking and deciding along the way were we wanted to go. My favorite European city is Vienna, Austria, but my favorite place is Mykonos, Greece. One of my goals in life is to travel to every continent in the world. For our honeymoon, we're going to Jamaica, which will be my first time in the Caribbean.
Felicia: How can readers ChEnect with you (other than through ChEnected)?
Nicole: I can be reached through my LinkedIn page.