RAPID DEPLOY: Data and Modeling for Digitalizing the Process Industries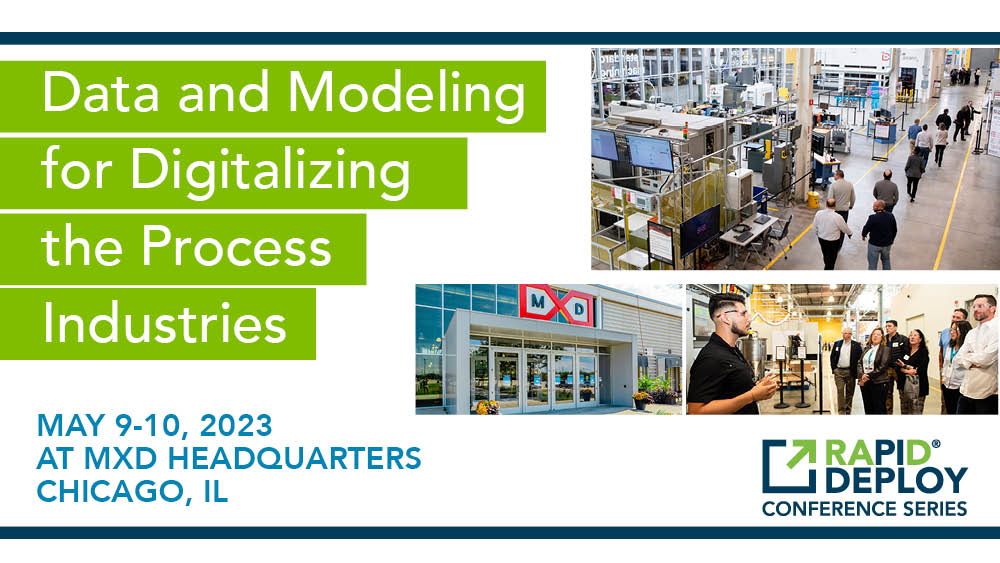 May 9-10, 2023 | MxD Headquarters | Chicago, IL
---
What to Expect | Speakers | Technical Program | Apply to Attend | Accommodations | Registration Rates
Enter intrigued and focused. Leave energized with new connections and empowered to deploy new ideas.
The RAPID DEPLOY Conference Series offers attendees an invite-only opportunity to engage in a mixture of invited talks and active workshop-style sessions culminating in a synthesis activity and an actionable report out. The fifth in the series will focus on data and modeling for digitalizing the process industries with the goal of bringing awareness of the tools, techniques, and methods available and how they can bring you and your process added value.
Join us May 9-10, in Chicago, IL, as we explore:
Data Generation. Strategies to generate and gather relevant data, ensure data quality, and couple experimental and simulation-based data.
Visualizing, Using, & Modeling Data. Data is not valuable until action is taken based on the data. From descriptive analytics to predictive and prescriptive analytics, varying levels of complexity can be used to derive insights from data and will be explored.
What's Next? More and more chemical process improvement will come from a better understanding at the smaller material scales (i.e., Quantum, Molecular). It will be especially important to ingest the details of these smaller scales into larger ones in applications such as emulsion polymerization, mixing, and electrolyse. Additionally, multiscale modeling can incorporate both fundamental models as well as data-driven modeling approaches like machine learning for hybrid model solutions. This session will address these points.
Special thanks to MxD, (Manufacturing x Digital), for hosting this event in their Chicago, IL headquarters. A fellow Manufacturing USA Institute to RAPID, MxD is working to transform and secure U.S. manufacturing innovation through digital technologies, cybersecurity, and an empowered workforce.
Collaborate with experts in the field and process industry colleagues to discuss challenges and opportunities associated with digitalizing processes.
Participate in a hands-on demonstration at the Siemens and Dow test bed at MxD of how innovative software and IoT come together with hardware to accelerate digitalization for the process industries. See firsthand how to design, monitor, and maintain products more effectively, efficiently, and remotely using data and digital tools.
Share technologies and opportunities for collaboration through an attendee lightning round
Connect and network with invited attendees throughout the event with ample networking time during brainstorming sessions, breaks, lunch, and the DEPLOY Reception (food and beverages included)
Take action with the complimentary copy of the DEPLOY conference report-out
*Please note that additional approval is required for non-US citizens to attend.
Federico Sciammarella serves as the Chief Technology Officer of MxD, he is in charge of developing and implementing the technology vision for the institute and is looking forward to leading the outstanding team that is currently in place.
Stay tuned for more information on keynote speakers.



Date/Time
What
Monday, May 8
5:00 pm - 7:00 pm
Optional: Happy Hour
5:00 pm - 6:45 pm
Optional: Technology Tour A
Tuesday, May 9
7:30 am - 8:45 am
Optional: Early Bird Technology Tour B
9:00 am - 9:30 am
Welcome to DEPLOY: Introductions, Objectives, Technology Background
9:30 am - 10:00 am
Keynote Speaker: Federico Sciammarella, MxD
10:00 am - 10:30 am
Industry Keynote Speaker: Dow
10:30 am - 10:45 am
Break
10:45 am - 11:15 am
Data Generation Keynote Speaker
11:15 am - 12:30 pm
Brainstorming Session #1: Data Generation
12:30 pm - 1:30 pm
Lunch (w/ Optional Tech Lightning Rounds)
1:30 pm - 2:45 pm
Technology Tour C
1:30 pm - 2:15 pm
MxD Tour 1
2:30 pm - 3:15 pm
MxD Tour 2
3:00 pm - 4:15 pm
Technology Tour D
3:15 pm - 4:00 pm
MxD Tour 3
5:00 pm - 7:00 pm
DEPLOY Evening Reception
Wednesday, May 10
7:30 am - 8:45 am
Early Bird Technology Tour E
9:00 am - 9:20 am
Review of Day 1; Preview of Day 2
9:20 am - 10:00 am
Visualizing, Using, & Modeling Data Keynote Speaker
10:00 am - 10:15 am
Break
10:15 am - 11:45 am
Brainstorming Session #2: Visualizing, Using, & Modeling Data
11:45 am - 12:45 pm
Lunch (w/ Optional Tech Lightning Rounds)
12:45 pm - 1:15 pm
What's Next? Keynote Speaker
1:15 pm - 2:45 pm
Brainstorming Session #3: What's Next?
2:45 pm - 3:00 pm
Break
3:00 pm - 3:30 pm
Meeting Wrap-Up
Due to the interactive nature of the conference, seats are limited. Conference attendance is an invite-only process. Interested attendees may apply for an invitation and will be notified no later than April 15 of acceptance or nonacceptance.
Event Location: MxD Headquarters, 1415 N Cherry Ave, Chicago, IL
Recommended hotels within several miles of MxD offering preferred rates for MxD guests as available.
Ambassador Chicago, 1301 N State Pkwy, 872-315-3050
1.3 miles from MxD
Mention Corporate Code 39888
Hotel EMC2, 228 E Ontario Street, 844-205-3939
2.8 miles from MxD
Mention MxD Corporate Rate
Omni Hotel Chicago, 676 N Michigan Ave, 312-266-3014
2.3 miles from MxD
Use Booking Link
The Robey, 2018 W North Ave., 872-315-3050
COVID-19 Safety Precautions
RAPID/AIChE is following CDC guidelines, done on a county by county basis. The status is currently medium in Cook county, therefore AIChE is not anticipating requiring masks. If a change is needed, we will inform the attendees.
RAPID/AIChE will continue to monitor health and safety requirements in accordance with CDC guidelines, Should any of these guidelines change prior to the start of the event, attendees will be notified and will be expected to adhere to the requirements in place at the time of the event.


Early Bird rates end April 10
MxD Member Organizations entitled to the Member rate with a promo code. Contact your MxD representative to receive the promo code.
Attendee
Early Bird
Regular
On-Site
RAPID & MxD Members
$745
$795
$845
Employees of RAPID Affiliates
$795
$845
$895
AMPS Members

AIChE Members
$825

$845
$875

$895
$925

$945
Non Members
$895
$945
$995