RAPID Process Intensification Credential Program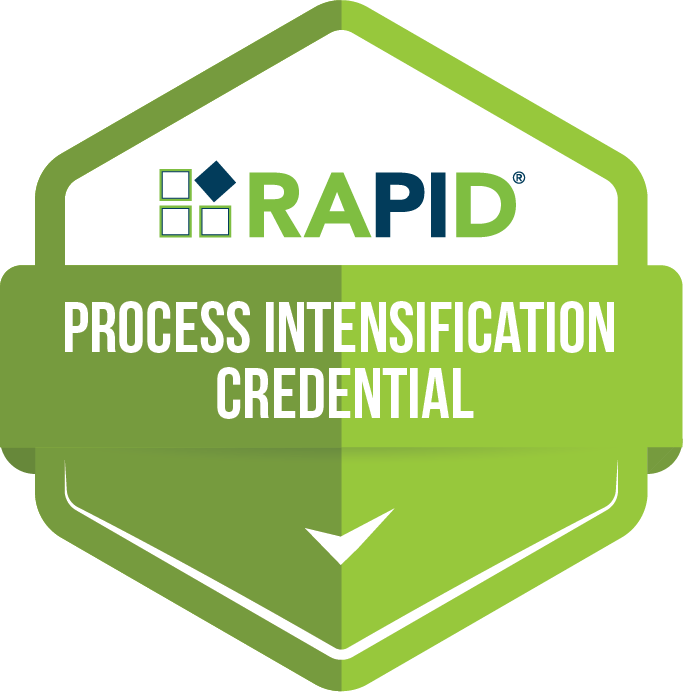 Scale up your manufacturing, processing and professional development
Introducing the only process intensification (PI) credential: RAPID's PI Credential
Process intensification (PI) and modular chemical process intensification (MCPI) technologies have the potential to transform the process industries by radically re-thinking conventional processes resulting in increased energy efficiency and productivity, and substantially decreasing timelines, equipment size to output ratio, waste production, and energy consumption.
RAPID leads the way in process intensification excellence in the U.S and has developed this credential program which provides the current and future workforce with the opportunity to demonstrate their competency in PI and MCPI concepts.
Start your credential today
Who should apply?
RAPID's Process Intensification Credential is designed for chemical, process, process development, process technology, and R&D engineers in the chemical, pharmaceutical, biotechnology, water and wastewater treatment and recovery industries with a hunger to transform current processes. There is no minimum amount of time that is required to have worked in a certain area, and we encourage those who are ready to scale up their professional development journey.
To earn the credential, you will complete focused courses and an exam.
Why encourage employees to apply?
RAPID's Process Intensification Credential offers a way for companies to:
Equip you/your employees with tools to add greater value to your organization (identifying opportunities for increased efficiency, lower CAPEX & lower OPEX)
Support the continued growth of employees and expand their opportunities
Elevate the status, prestige, and reputation of credential holders
Identify qualified applicants in the hiring process
Justify investments in programs, processes, systems or infrastructure as well as professional development activities
How does the RAPID Process Intensification Credential benefit your organization?
Builds a Strong, Accountable Workforce. When people are certified in PI, more projects are brought in-house, to a team who has a strong work ethic and accountability.
Builds Credibility. As a start-up, credibility with potential investors is very important. It sets a level of expectation with regard to technological development. In addition, it gives any organization a competitive advantage as prospective customers decide on their best partner.
Productivity Enhanced. Being PI certified helps with workforce productivity and building a technical skillset that improves quality and efficiency.
Project Management. It allows organizations to identify projects with the greatest potential for positive impact on financials, safety, sustainability, and quality.
Sets the Global Standard. Set best practices globally. Having a credentialed staff shows that your employees are at the top of the profession and understand what is needed to be successful.
What courses are covered in the curriculum?
There are five (5) courses that are required to receive your credential, which take approximately 19 hours. These are self-paced and there is no time limit to complete. There is a final exam at the end of the credential.
ELA300: Fundamentals of Process Intensification
ELA350: Process Design for Process Intensification
ELA351: Modeling and Simulation for Process Intensification
ELA352: Introduction to Modular Chemical Process Intensification
ELA301: Intensified Reaction Processes
Start your credential today
The Institute of Learning & Innovation
Learners of all ages need to keep pace with evolving skill requirements from college to the workplace. AIChE's new institute will provide students and professionals the opportunity to learn and innovate through collaboration, practice and discovery.
Discover the Right Path for You