Strategic commitment includes the following assessment criteria:
Stated Commitment — public commitment to excellence in environmental and social performance throughout a company's value chain
Commitment to Voluntary Codes — public commitment to voluntary codes and standards, including Responsible Care, Global Compact, and others
Sustainability Reporting — timely and comprehensive public reporting of sustainability performance
Sustainability Goals and Programs — a comprehensive set of goals and programs that are specific and challenging
Third-Party Ratings — respected agencies' ratings on company-wide sustainability management and reporting.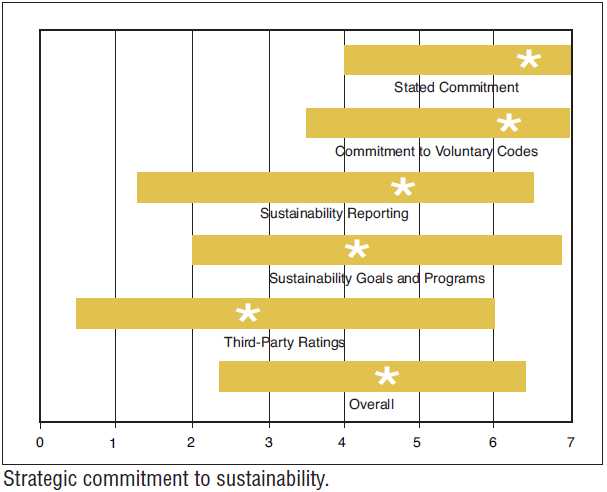 On average, the companies received high marks on stated commitment and commitment to voluntary codes, and lower scores on sustainability reporting and sustainability goals and programs. They also scored somewhat poorly on third-party ratings (such as the Dow Jones Sustainability Index and FTSE4Good). The ranges, however, show considerable gaps between the top and bottom performers for each criterion.
All of the major chemical companies in this analysis have made public commitments to some aspects of sustainability, and nine of the 11 have extended these commitments beyond internal environmental, health and safety (EHS) performance and product safety to include resource efficiency, product environmental performance, and supplier performance. Nevertheless, commitments need to be supported by systems in place, including accountability through public reporting and clear targets and initiatives. Although a few of the companies have published well-respected, award-winning sustainability reports, many remain limited to reporting internal EHS performance and anecdotal success stories. Only a handful of chemical companies have developed clear and comprehensive sustainability targets.
Return to the AIChE Sustainability Index or explore other factors: