(677c) Monitoring of Gaseous Sulfur Species in a Modified Sulfur-Iodine Thermochemical Water Splitting Cycle in a Hydrophobic Ionic Liquid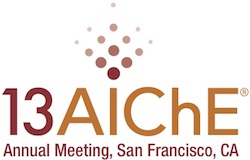 Monitoring of Gaseous Sulfur Species in a Modified Sulfur-Iodine Thermochemical Water Splitting Cycle in a Hydrophobic Ionic Liquid
Kevin Caple and A.F.T. Yokochi
The development of a clean, simple, and renewable energy source is becoming one of the more prevalent topics amongst scientists, researchers, and politicians alike. Processes involving solar, wind, nuclear, chemical, and a smattering of other combinations of these have been studied and explored from numerous angles. Of the various processes studied, thermal based water splitting may be one of the most popularly studied, yet least commercially viable options available on the market today, due to drastic inefficiencies.
Some of these inefficiencies in thermal water splitting can be mitigated through what has been coined "thermochemical cycles" which are processes that involve several sequential and circular chemical reactions to take water and produce by hydrogen and oxygen while regenerating the initial reactants. Of these thermochemical cycles, one of the most commonly studied and most straightforward is the Sulfur-Iodine Cycle, which uses sulfur dioxide, iodine and a large excess of water to produce iodic and sulfuric acid. The two acids are then further processed into their initial reagents, as well as the desired hydrogen product. However, the S-I cycle has several drawbacks, including expensive catalysts for the acid treatments, material compatibility, and separation difficulty due to low percentage azeotropes.
In an attempt to moderate these drawbacks, we have developed a modification of the S-I cycle utilizing a previously undesired side reaction. To further alleviate any material compatibility issues, rather than run the reaction in water, an imidazolium based ionic liquid was chosen as a solvent for the following series of reactions to occur:
I2 + SO2+ 2H2O -> 2HI + H2SO4 (Bunsen Reaction, Low Temp)
8HI + H2SO4 -> 4I2 + H2S + 4H2O (Side Reaction Producing H2S, Low Temp)
H2SO4 -> SO3 + H2O (Sulfuric Acid Gasification, ~ 200°C)
SO3 -> SO2 + .5O2 (Reformation of Sulfur Dioxide, Low Temp)
H2S + 2H2O -> SO2 + 3H2 (Steam Reformation, High Temp)
This work focuses on the low temperature aspect of the cycle, specifically on the first two reactions involving the Bunsen Reaction that produces the two strong acids and the hydrogen sulfide production reaction, studying kinetic parameters, the extent of the cyclic reaction, and the amount of hydrogen sulfide produced.