(566a) Greenscope Tool for Process Design and Technological Evaluation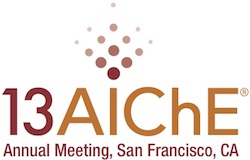 The chemical industry is one of the most important business sectors having a relevant role for the global economy and society's quality of life. However, these benefits can involve human health and environmental costs. These challenges and improvement opportunities require the integration of sustainable development approaches to achieve quality of life enhancement without affecting the availability of ecological goods and services for new and existing chemical manufacturing processes. Therefore, the U.S. Environmental Protection Agency has created the GREENSCOPE tool to guide decision-makers, designers, and stakeholders in developing more sustainable processes.
Process design for sustainability requires the implementation of quantitative evaluation criteria that can describe if a particular process is sustainable and how sustainable it is. These sustainability criteria should identify process areas in need of redesign and key decision aspects in order to obtain an optimal tradeoff and net overall improvements. GREENSCOPE provides this quantitative assessment of sustainability by employing a set of indicators capable of transmitting and translating process performance, feedstocks, utilities, equipment, and output information into a sustainability measurement scale. These process characteristics (indicators) are categorized in the areas of environment, efficiency (material), energy, and economics, known as the 4 E's.
GREENSCOPE is presented in conjunction with a sustainability performance assessment for the manufacture of biodiesel. A set of distinct continuous processes for biodiesel production were designed and simulated. A sustainability assessment of these processes was conducted to evaluate their technical benefits and to describe how well the processes under study make use of mass and energy goods and services to manufacture a valuable product, achieve social and environmental needs, while maximizing their economic outcomes. Therefore, GREENSCOPE is proposed as a proficient tool for evaluating and designing various technologies for the production of a valuable good and identifying the most sustainable alternative.
Checkout
This paper has an Extended Abstract file available; you must purchase the conference proceedings to access it.
Do you already own this?
Log In for instructions on accessing this content.
Pricing
---
Individuals
| | |
| --- | --- |
| AIChE Members | $150.00 |
| AIChE Graduate Student Members | Free |
| AIChE Undergraduate Student Members | Free |
| Non-Members | $225.00 |