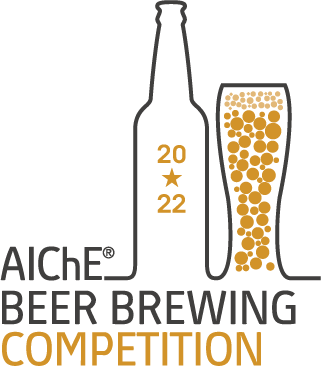 With the support of AIChE and the Young Professionals Committee, come showcase your chemical engineering skills by participating in the AIChE Beer Brewing Competition (ABBC). ABBC will allow AIChE entities (local sections, divisions, forums, etc.) to create teams of two to five U.S.-based professional members over the age of 21 (undergraduate students not eligible to participate), with at least one member under the age of 35, to brew their own beer in any BJCP style category. Professional beer tasting judges will then score beers according to a standard beer tasting rubric. Teams will also flex their chemical engineering muscles through a poster competition describing their processes and creative design that has gone into their brew. The prizes are big, the processes are batch, and the competition is exciting.
The fourth competition will be held on November 13, 2022 at the 2022 AIChE Annual Meeting.
Not an AIChE Local Section member yet? Join today
Not an AIChE Division or Forum member yet? Join today
Details
Award

Tasting Competition: 80% of overall score. Judged by Beer Judge Certification Program (BJCP) official judges.

Poster Competition: 20% of overall score. Judged by AIChE professional members.

Grand Prize: Best cumulative score of the tasting and poster competitions. Winning team members of the grand prize will receive a complimentary membership to AIChE for the 2023 dues year ($199 value per person). Grand prize winners will also be featured in an AIChE webinar reviewing their winning brew processes.

Summary of all 2022 Competition Awards

Grand Prize (1st Place) - 80% taste/20% poster
1st Runner-Up Grand Prize (2nd Place) - 80% taste/20% poster
2nd Runner-Up Grand Prize (3rd Place) - 80% taste/20% poster
Best of Show (BoS) - Tasting Winner from BJCP judges
Best Poster Presentation Winner – winner from poster judges
Best Beer Name
People's Choice Award – from guest judges
Most Efficient Brew – The team with the best brewhouse efficiency number
Biggest Beer – Beer with the highest starting gravity before fermentation
Best Beer Label - to be shown on the poster, not the entry bottles

Best New Team - BJCP Best of Show between teams of 1st time competitors

Administrators
Young Professionals Committee (YPC)
Nomination Instructions

Tasting Competition

Brew your most creative and delicious beer in the beer style(s) of your team's choice, and bring it to be judged at the AIChE Beer Brewing Competition. Teams may submit up to three styles of beer into the competition. Any beer style may be submitted into the competition so long as it is a Beer Judge Certification Program offical beer style. See the BJCP Style Guidelines

NEW this YEAR- the BJCP welcomes 2 new brew styles: Meads & Ciders! Start brewing your beer today!

Poster Competition

Each team, along with their brewed beer, must create a poster presentation that at least includes the following information for each beer brewed:

Beer recipe
Mass balances
% ABV calculations
Brewhouse efficiency calculations
Process used to brew

Competition Rules

Note that that only professional members within the continental United States are eligible to participate. Undergraduate students are not eligible.

Shipping Instructions

Judging Information

This competition will be Beer Judge Certification Program (BJCP) certified and competition procedures will be followed using the BJCP Competition Handbook.

Brewhouse efficiency information

Registration deadline: September 30, 2022.

Each team must complete the online registration form and pay the registration fee.

If you have any questions, please contact the ABBC coordinators at brewbeer@aiche.org.