Since carbon sequestration has been a bust, Sean Simpson, the world's plan B for greenhouse gas emissions and New Zealand's biggest entrepreneurial success story, confidently strides on stage to tell a local audience how he scaled up while surviving on scraps of Kiwi venture capital - a clean-tech Top Ramen diet.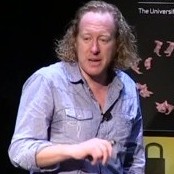 The art of the pitch
He may look like an aging, dissipated rocker with long, disheveled hair and a wrinkled, untucked shirt, but a few months after the speech, Simpson, the chief scientist and founder of LanzaTech, raised an additional $60 million, bringing the haul from a who's who of global investors, including Japan's Mitsui and Germany's Siemens, to $150 million. Give or take an extra $20 or $30 million, this will enable him to fully expand the range of microbes in LanzaTech's archive. During his walk-and-talk, Simpson, who likes to think big (solving both halves of the global energy problem, a perfect example), wants his audience to know how important it is to "walk into a room with a concept that most people consider crazy, get them excited about it, and then ask for money." As he roams the stage riffing on his well-honed pitch, it's easy to see that he's become a great storyteller - and funny - cracking himself up while dishing out anecdotes. Sure, it's exciting to know that LanzaTech has the first technology to turn steel mill and refinery waste gases into biofuel, but it takes Simpson to bring the industrial process to life. His restless pacing, then suddenly turning to the audience to make a point, before gliding off again, makes sense for a man who's always been on the move. He's only nominally British. After he was born in Zambia, his parents dragged him across Africa until he finally stopped long enough in England to study bioengineering and biochemistry.
Beyond biomass
After college he knocked around the world as a journeyman researcher until he washed up in New Zealand, working as the leader on a biofuel project to turn hardwood into ethanol.
While slogging away in the lab, he started seriously thinking about the downsides of biomass. Feedstock and logistics costs (hauling all of that potential energy in from the field) were unavoidable. He started to imagine harvesting cheap CO-rich gases and converting them into fuels and chemicals. He spent his free time trolling university archives, looking for some way to turn steel mill and refinery off-gases, typically considered waste, into a biofuel.
Acetogen on ice
Finally, in an obscure research journal, he found a possible solution, a bacteria (an acetogen) living in a rabbit's gut that might eat enough carbon monoxide to spit out gallons of ethanol. His life as an entrepreneur had just begun - whether he was ready or not. He immediately shelled out $1,000 for a microbe in a deep freeze half way around the world. After it arrived by air freight, he revived it and prodded it to see if it had an appetite for carbon monoxide. Barely. But he saw enough potential to put it through an accelerated natural selection - culling out the laggards - until the microbe started to develop a craving for gas. And just in time - he promptly lost his day job when the biofuel project went belly-up. Tweaking and improving the microbe right up until his unemployment ran out, he ended up with a small sample, data and a slide presentation. So he started looking for money to keep the project alive. After Simpson mastered his pitch, he presented his "crazy idea" to three New Zealand venture capitalists who gave him enough money to hire a small staff.
Khosla
They also helped Simpson meet Vinod Khosla, another global expatriate, believer in ethanol, and the biggest green-tech venture capitalist in the world. Khosla, who thinks so big that he ascribes to a black swan investment strategy of massively expensive long-shots, liked Simpson's enthusiastic pitch so much - especially the crazy idea - that he immediately said he'd invest, but then warned Simpson that if he didn't stop talking, he'd throw him out.
A bit terrifying
Next Khlosa recruited CEO Jennifer Holmgren, an alternative fuels veteran from UOP, who promptly dragged Simpson to China, where they pitched Bao Steel into trying the organism at one of its steel mills. After what Simpson fondly recalls as "drinking a lot, eating strange foods," and explaining the microbe's economic potential, the Bao executives signed on. When Bao finally tested the concept at one of its steel mills, it was the first time Simpson could see his vision transformed into a facility producing 100,000 gallons of ethanol a year. He confessed, "To stand in front of that plant in China was phenomenal and a bit terrifying."