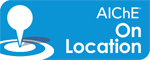 In most chemical engineering curricula, students don't get to actual courses in the discipline until their junior year. Although the two years of basic math, chemistry and physics (and the liberal arts courses) are valuable for many majors, the idea of finding out whether chemical engineering is where they want to be in the first year seems valuable. Dr. Bill Elmore at Mississippi State University has begun a class for Freshman ChemEs that uses the ubiquitous building "toy" Legos.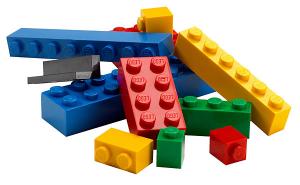 Various projects are designed to demonstrate many principles of heat and mass balance and transfer, fluid mechanics, etc. giving the students a hands-on learning experience. The standard Lego Control Unit, which uses a symbolic programming language and simple proportional control, is at the heart of the projects, though only a portion of each setup is actual Lego constructs. For example:
Double-pipe heat exchanger temperature control: Using a simple copper tubing double-pipe heat exchanger (made by students in another class--Yes, Chem E's are just glorified plumbers!) student are tasked with controlling cooling water flow to maintain a specified temperature drop of a second hot water flow. A complicating factor is also introduced, in that the flow of the "hot" water is sensitive to the level in the feed tank.


Flow-tank liquid level control: Utilizing a flow control valve and using readings from ultrasonic tank level sensors, students are tasked with maintaining specified tank levels under various flow conditions.
The class has proven to be a resounding success. Bill also stresses the importance of teamwork in the class, and 20% of the students' grades are an average of all their teammates' grades.
He and his classes also take the use of Lego robotics to local middle and high schools to teach and get students interested in the engineering profession, and to encourage disadvantaged kids to think more expansively about their future plans after graduation.
For more information about the class and the materials used, contact Bill Elmore, Ph.D., Mississippi State University, SWALM School of Chemical Engineering at elmore@che.msstate.edu