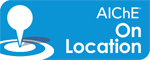 This morning Aris Candris spoke to ChEnected about the future of nuclear energy. Dr. Aris Candris is a senior advisor and a member or the Westinghouse Electric Company Board of Directors. He is also the former president and CEO of Westinghouse Electric Company.
While Fukushima has had an extraordinary effect on nuclear energy, it's still with us and there's a lot changing. Hear how the industry is evolving and where it's headed.
Check out the interview in the video panel at the right.
Image: Nuclear cooling towers, digit-al