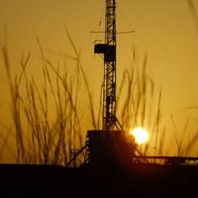 In the mid 90s, before horizontal drilling, and before EOG and Brigham Exploration perfected multistage fracking in the Bakken formation, Chevron engineer Robert Lestz was struggling to improve fracking productivity. Eventually he began to feel hydro-fracking was not only unproductive, but ultimately, unsustainable, and started searching for a way to extract oil and gas without using truckloads of water.
Inside Climate News reports that after testing nitrogen and liquid carbon dioxide, Lestz eventually developed a fracking process that completely replaced water with propane. At the time, Chevron wasn't interested in LPG fracking, so in 2006, a business friend in Canada licensed the idea and started GASFRAC (website).
Eagle Ford drought
When Lestz later joined the company in 2010 as chief technology officer, most shale gas drillers in the Barnett Shale near Fort Worth still disposed of fracking wastewater by injecting it deep underground. And drilling in the Eagle Ford Shale of West Texas was just starting to take off.
As the Eagle Ford continues to suffer from a prolonged drought (see animation), traditional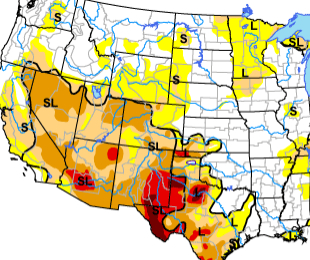 fracking is adding to the region's water scarcity problems. With the area's unique geology, fracking a single well uses about 6 million gallons of water, enough to supply 240 adults for a year, according to Bloomberg.
To reduce water consumption, Exxon Mobil is already recycling fracking wastewater; Anadarko is even replacing dirt roads leading to its wells to save water normally used to suppress dust.
Water recycler Fountain Quail Water, which developed its evaporation technology working in the Barnett Shale and claims to have already recycled 800 million gallons of wastewater, recently opened a busy new facility in the drought stricken area (press release). Unfortunately, even though the company is recovering 75-80% distilled water from the flowback, this barely addresses the problem since only 20% of fracking water comes back to the surface.
Texans choose between fracking and farming
Compared to thirsty, water-guzzling cities and farming, the amount of water needed to develop oil and gas wells is miniscule. The Wall Street Journal obtained a Texas Water Report that said 56% of water in Texas goes to farming; 26.9% to city water systems; 9.6% to manufacturing, including refineries; 4.1% to power generation; 1.8% for livestock; and 1.6% to mining, which includes oil-and-gas drilling.
But with the local Carrizo and Gulf Coast aquifers already under pressure to meet the competing needs of farming and rapidly growing cities, fracking is drawing water from a severely limited resource. Darrell Brownlow, a West Texas cattle rancher, told the Journal that if the

economically depressed and arid region has to choose between farming and fracking, the choice is a obvious.
Mr. Brownlow, who also has a Ph.D. in geochemistry, looks at the situation pragmatically. In his mind, you can't fight the math. He figures that when it takes 407 million gallons to irrigate 640 acres to grow $200,000 worth of corn, and the same amount of water can frack enough wells to generate $2.5 billion worth of oil: "No water, no frack, no wealth," says Mr. Brownlow, who has leased his cattle ranch for oil exploration (drought video report).
The GASFRAC choice
Robert Lestz doesn't think Texans have to choose between fracking and farming. The GASFRAC closed-loop system offers a productive alternative (listen to an interview with Robert Lestz).
Instead of water, GASFRAC relies on a thick propane gel. Then, like water, the propane gel is pumped deep into shale formations, carrying small sand particles that are forced into cracks to hold them open so the gas can flow out. But unlike water, the gel reverts to vapor before returning to the surface - along with the natural gas. As an added benefit, the returning propane does not carry drilling chemicals back to the surface. Watch a gelling demonstration:
Lestz also said propane fracking is more efficient because it allows more gas to flow from wells than water-based fracturing. After each frack, all the propane leaves the fractured rocks, unlike water, which can remain behind, partially blocking gas movement up the well.
Lestz spoke to patexia.com, "Operators are recognizing an increase in reserve recoveries of 25% with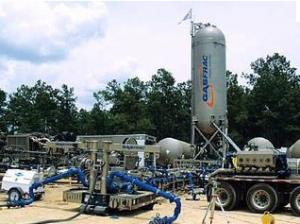 our technique. Given an oil well that can produce 100,000 barrels, now they can produce 125,000 barrels."
Cost and safety concerns
Propane, however, still costs more initially. It is also explosive, and requires special equipment to be handled properly and reduce risk. In January, there was a flash fire at an LPG gas well being drilled in Alberta by Husky Energy (news story), one of Canada's largest energy companies and one of the first to embrace LPG drilling. Three workers suffered burns, although no injuries were life threatening.
Lestz said the company has added more monitoring equipment to reduce the risks. Wells now have 20 propane sensors, up from three, as well as an infrared video monitor that allows gas leaks to be seen by well crews never allowed near the "hot zone" during propane fracking.
BlackBrush Oil and Gas chooses GASFRAC
Back in water-stressed Texas, GASFRAC has just entered into a two year contract with early adopter BlackBrush Oil and Gas (read article). After several test wells showed positive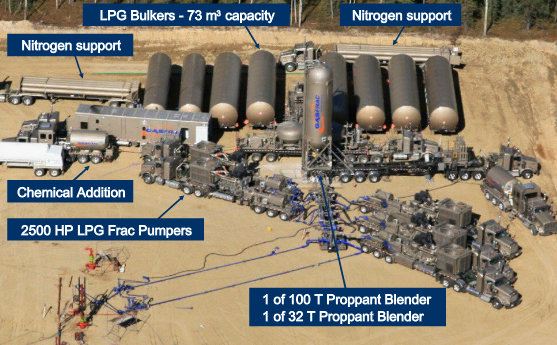 results, BlackBrush, with 900 drillable locations in the Carrizo Springs area, has agreed to a longer-term partnership in order to secure GASFRAC equipment as demand for the technology grows.
Letsz's early research is now finally coming full circle: Chevron recently began testing GASFRAC's LPG process in five natural gas wells located in Colorado. The willingness of a major energy company to test gas fracking bodes well for its potential. Robert Lestz explained to patexia.com,"they were pleased with the operational performance and how it was done safely and incident-free."