The Situation
Industry Convinced Regulatory Authorities to Accept Performance-based Process Safety Management
Lack of quality data reduces confidence & jeopardizes industry credibility with respect to quantitative analysis results

Performance-based Processes Require Quality Management Systems that are Auditable and Defensible
Quality Assurance Requires Data to Validate Performance Assumptions
The solution: PERD
Imagine that your maintenance & reliability data is automatically uploaded, compared against whole-industry data, and made available to you with clear, statistically validated  guidance. It's not your imagination, it's PERD.
"A rising tide lifts all boats".  As the PERD boat rises, all participants will reap the benefits.
PERD Mission
To provide this solution, CCPS set in motion a project with the following Mission: "Operation of an Equipment Reliability Database, Making Available High Quality, Valid, and Useful Data to the HPI and CPI Enabling Analyses to Support Availability, Reliability, and Equipment Design Improvements, Maintenance Strategies, and Life Cycle Cost Determination"
PERD Provides:
Practical approach and Consistent work processes for data collection

Sound theoretical foundation based on engineering fundamentals

Efficient software tools for data submission

S/W dedicated for use by participating companies

Quality assurance for data analysis

Identification and analysis of outliers
Defensible and auditable results
Why join PERD
With a small investment and minimal data PERD enables user companies to leverage existing IT and MI systems to collect and submit data resulting in:
Improved Reliability
Identification of "low hanging fruit" for immediate impact
Minimization of unforeseen losses
Increased Effectiveness for

Information Systems Technology
Reliability & Quantitative Risk Assessments
Regulatory Compliance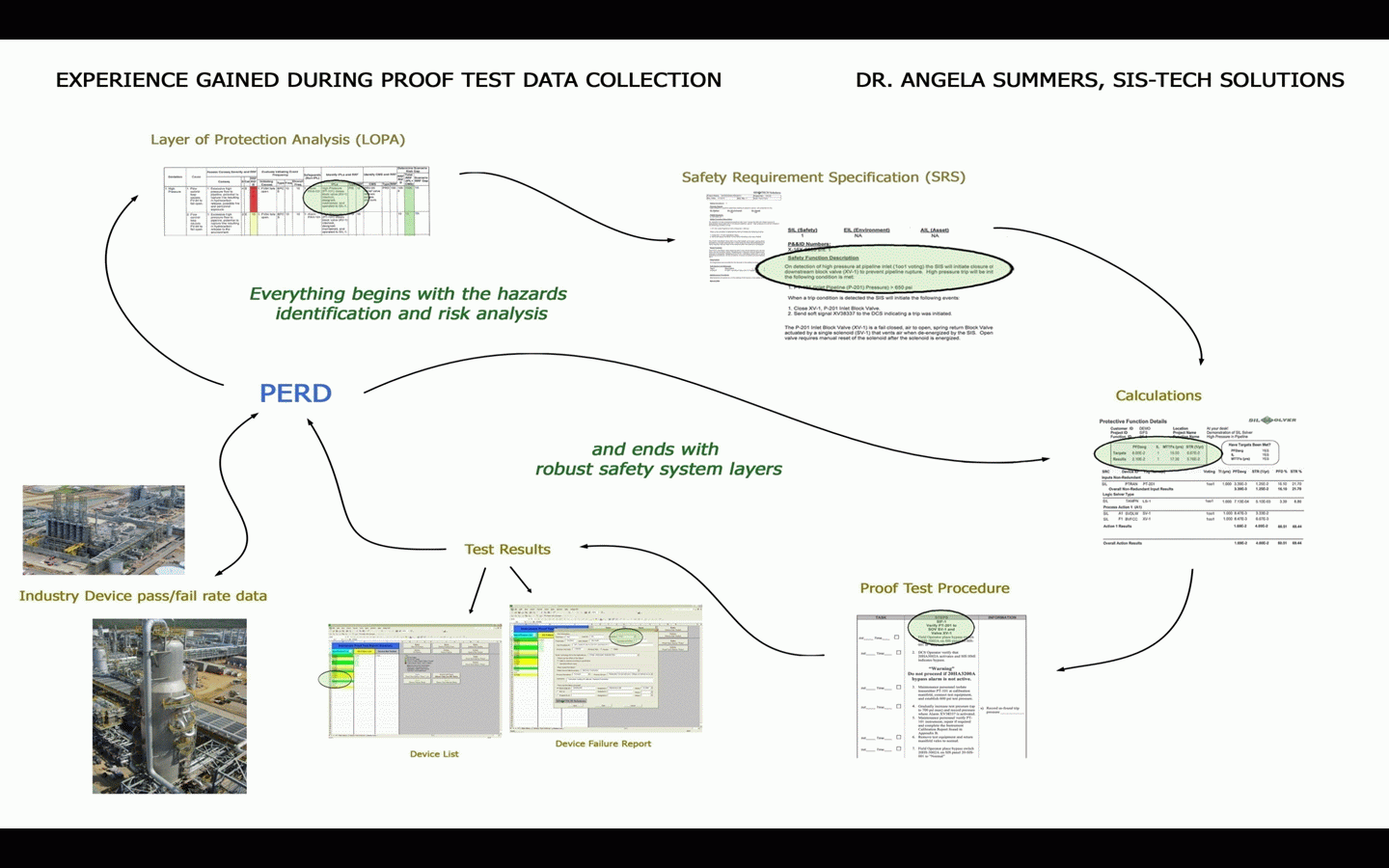 With a small investment and minimal data your maintenance & reliability data could be:
Automatically uploaded,
Compared against whole-industry data, and
Made available to you with clear, statistically validated  guidance
Getting started
Upon Joining as a Full Participant
PERD provides the software & initial help to companies loading the software onto their company server
PERD provides initial help and guidance allowing you to contribute whatever data you have, enabling companies to quickly get involved and begin accruing benefits
Company data contribution means access to aggregated anonymous industry data and a path to continuous improvement
Immediate Benefits
Access to fundamental technical information that documents specific data user needs to:

Filter inventory data for populations of interest
Infer failure modes of interest

Access to work process knowledge needed to achieve company goals
Facilitates moving to data farming (low cost) work process rather than data mining (high cost) activity
Enables maximization of benefits from enterprise systems (eg SAP, Maximo, Matrikon, Meridian, etc.)

Provides pre-engineered solutions that can be implemented cost effectively
Best available info transfer between engineering and programmers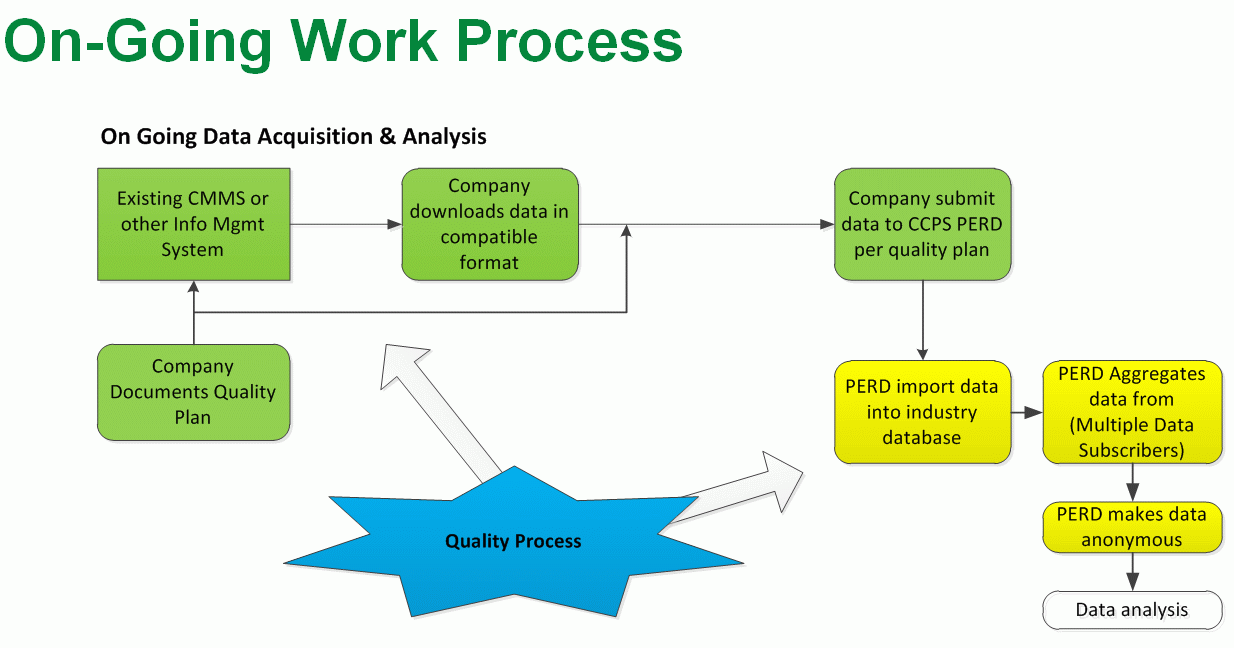 Long term benefits
Data Harvesting per Defined Quality Plans Provide:

Operating company database capable of achieving proven in use data for safety and reliability analysis

Data Contribution to PERD Facilitates

Operation of industry database
Industry benchmarking
Statistical analysis by true experts due to best data available to support their research
Data available for improved reliability and risk analysis
On going continuous improvement via reliability growth
Build upon a sound technical foundation
PERD Uses a Data Tier Structure That:

Eliminates Data Intimidation
Allows more rapid expansion of partial Equipment taxonomies and associated software development

Basic Tier Concept

Tier 1 – Whatever minimal data might exist – Gets people started
Tier 2 – Begins to provide more useful information
Tier 3 – Top of the PERD ladder of success
Inventory Data Tier concept
Tier 1

Location Address (e.g. Plant, tag, etc.)
Equipment Group (e.g. Instrumentation)
Equipment System (e.g. Transmitter)

Tier 2
All tier 1 data plus following data user chooses to enter

Equipment Type (e.g. Differential Pressure)
Equipment Subtype (e.g. Level)
Manufacturer
Model Number
Output Signal or Set Point (As applicable to equipment)

Tier 3

All tier 1 data
Equipment type
Equipment subtype
Plus additional tier 2 and / or 3 data user chooses to enter
Event Data Tier concept
All Events require

Linkage to tracked equipment
Event date (and time if applicable)

Tier 1

Data showing a failure has occurred

Tier 2

Data sufficient to infer whether failure was "Dangerous" or "Safe"

Tier 3

Data sufficient to infer true failure modes
User decides what event data to track. Event data tracked determines what level of inference is achievable.
Summary
PERD provides you a roadmap to improved performance whereby you can
Improve Information Systems Effectiveness
Create Value
Minimize unforeseen losses
Improve Regulatory Compliance Effectiveness
Enroll now
To discuss or join PERD, contact Dave Belonger at (609) 654-4914 or by email at dbelonger@verizon.net.