(513dn) Preparation of Ni-Cu-O-BDD Electrode for Direct Electrochemical Oxidation of Ammonia in Aqueous Solution to N2
AIChE Annual Meeting
2020
Friday, November 20, 2020 - 8:00am to 9:00am
Conversion of NH
3
-N in aqueous solution into harmless N
2
gas has always been the tricky problem in wastewater treatment. Electrochemical process has advantages of low cost and wide application for the oxidation of NH
3
-N. It's well known that the selectivity of electrochemical oxidation is critical, because NH
3
-N can be readily over-oxidized to nitrate. In this work, we introduced BDD electrode modified with Ni and Cu oxides for the improvement of the selectivity.
The metal was dispersed on the surface of the micron BDD as showed in Fig 1. a. And then some tests were used to analyse Ni-Cu-O-BDD electrodes in Fig 1. b, c and d. We improve the ammonia oxidation ability of the Ni-Cu-O-BDD electrodes through changing the proportion of Ni and Cu bimetals and optimizing the radio of sp2 and sp3 of BDD electrodes. When the synthetic ratio of Ni and Cu was 10:1 and the sp2 graphite peak of BDD was free, the selectivity of ammonia nitrogen oxidized to nitrogen can reach above 90% without chloride ion. At the same time, direct ammonia oxidation can strongly reduce the energy demand, it needed only 8.18 Kwh to degrade 1 Kg ammonia nitrogen. The stability of the electrode was also tested as showed in Fig 1.e.
The mechanism of ammonia oxidation degradation based on Ni-Cu-O-BDD anodic was also analyzed. On one hand,˙OH radical formed on the surface of BDD electrode played important role in the degradation of ammonia for its high reactivity. The presence of hydroxyl radicals was determined via ESR technique showed in Fig 1.f. On other hand. As a Ni-based catalysts the conversion between Ni(OH)2 and NiOOH also helped a lot. The introduce of Cu was to help separated the ammonia oxidation products from catalyst's surface. The reaction process of ammonia nitrogen was also analyzed.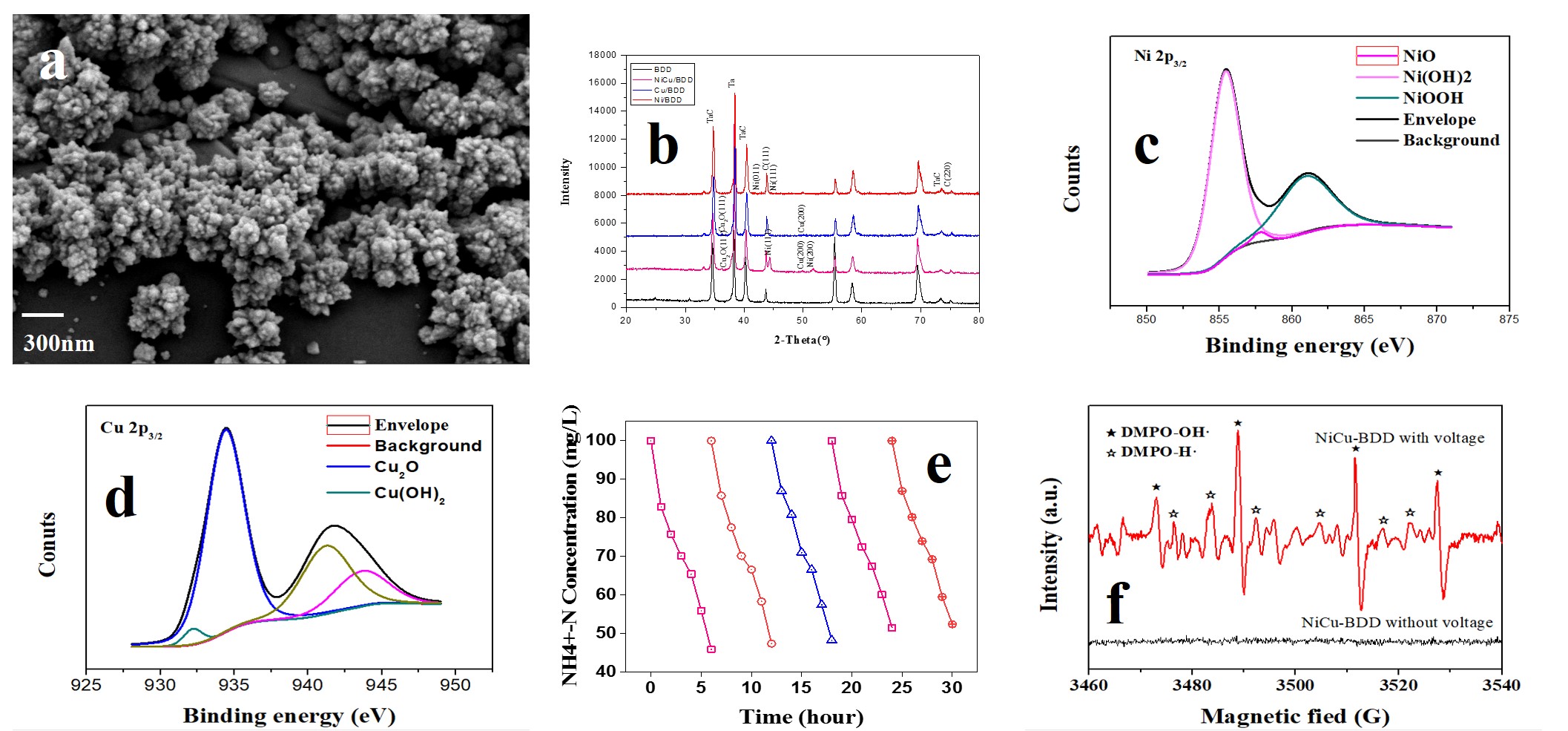 Topics