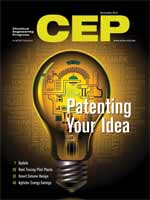 The November cover story, "Are We Covered? Understand the Strengths and Weeknesses of a Patenting Policy," describes how a detailed laboratory notebook is one of the most valuable assets at an engineer's disposal when negotiating the pathway to a patent. Other topics include best practices for heat tracing plot plants, cutting agitator power costs and optimizing distillation by designing "green" columns. Also, read about the latest developments in materials, biotechnology, energy and nanotechnology.
Editorial
On the first day of our visit to Walt Disney World, my then-seven-year-old son got lost in the Magic Kingdom. Luckily, he was somewhere on Tom Sawyer Island, so our search area was limited. On the second day, he wandered off in the Honey, I Shrunk the Kids attraction (also an enclosed space, thankfully).
Those experiences gave me an idea for what I called Kid LoJack — a biocompatible microchip that parents could inject under a baby's skin, and later activate to locate the child if he or she got lost or kidnapped (or stayed out past curfew). I've often wondered — civil liberties issues aside — whether I could have patented such a device.
Copyright Permissions:
Would you like to reuse content from CEP Magazine? It's easy to request permission to reuse content. Simply click here to connect instantly to licensing services, where you can choose from a list of options regarding how you would like to reuse the desired content and complete the transaction.
Sponsored Links
The total fire and gas solution from Honeywell Analytics puts a safety umbrella over your entire plant while maximizing productivity.
Adding a line of defense – our Fire Sentry fire and flame detectors – to your existing gas detection helps increase safety and uptime in your facility by decreasing the likelihood of a disruptive event. Think uptime and opt for the total fire and gas solution from Honeywell Analytics. Control your safety.
 
Honeywell Analytics
Steam Trap Diagnostic and Management
For production plants, proper maintenance is absolutely essential to ensure system availability, continued safe operation and efficient production. For steam systems, the critical elements are often steam traps. TLV offers the world's best steam trap diagnostic and management tools, capable of making detailed and highly accurate, objective judgments. They can support on-site surveys or enable the customer to achieve optimized self-maintenance.  To find out more visit our web site.
TLV Corp
Heat Exchangers
BORSIG Process Heat Exchanger GmbH supplies transfer line exchangers, process gas waste heat recovery systems and scraped surface exchangers for the chemical and petrochemical industries. The BORSIG Transfer Line Exchangers are the result of more than 45 years experience and about 6,000 units installed worldwide. We offer BORSIG Linear Quenchers (BLQs) and BORSIG Tunnelflow Transfer Line Exchangers depending on the customer´s plant concept.
Borsig Process Heat Exchanger GmbH
Order New Catalog on CD
The 50th Anniversary Edition catalog on CD covers our complete line of Dynatrol® on-stream process analyzers, measurement & control instruments, level detectors and line of new accessories. 
Automation Products, Inc.