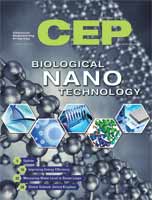 The December SBE supplement focuses on biological nanothechnology. Other topics include improving energy efficiency, measuring water level in steam loops, and the evolution of the chemicals industry in the U.K. Also, read about the latest development in catalysis, materials, nanotechnology, and Energy.
Editorial
I was really excited that this year's Annual Meeting was being held in Pittsburgh. Having grown up in southwestern Pennsylvania and gone to school at Carnegie Mellon, I was eager to get back to my roots and share my hometown with my coworkers — the excitement of a home Steelers game, a ride up the incline to gaze down at the city from Mount Washington, and maybe a cruise on the three rivers on the Gateway Clipper. Unfortunately, Hurricane Sandy forced me to rethink some of my plans, especially those that involved being outdoors.
Although we were physically out of the storm's direct path, we did feel some of its effects. (The nearly constant, cold, windy rain was hard to ignore.) Outwardly, we did what we normally do to orchestrate an annual meeting — which was a great success in spite of the weather.
Copyright Permissions:
Would you like to reuse content from CEP Magazine? It's easy to request permission to reuse content. Simply click here to connect instantly to licensing services, where you can choose from a list of options regarding how you would like to reuse the desired content and complete the transaction.
Sponsored Links
Engineered & Advanced Materials
American Elements is the world leader in commercializing developments in materials science. Expertise in ultra high purity materials and nanotechnology allows us to meet the needs of a wide variety of industry groups, including energy, aerospace, optics, military and pharma/cosmetics. We produce over 3,000 elemental metallic, compound, ceramic and crystalline materials for our catalog and for numerous customer proprietary requirements from our manufacturing facilities in the United States and China.
American Elements
Process Hose
Flexible reinforced hose for elevated pressures is engineered for pharmaceutical and chemical uses. Called APEWF, the hose is wire reinforced and suitable for suction or discharge. Its smooth inner surface offers unrestricted flow while the abrasion-resistant rubber cover handles tough environments. Stocked in sizes to 4" I.D.
AdvantaPure®
Safe Access for Loading Truck and Rail Cars
Loading operators, project engineers, and plant management all know how important safety is to us at HEMCO. Our safety record proves they can rely on us for fall protection from accidents. We offer tracking gangways, access ramps, loading racks, lifelines and loading arms. Because we've been there for you since 1956, we'll be there for you tomorrow.
HEMCO
Order New Catalog on CD
The 50th Anniversary Edition catalog on CD covers our complete line of Dynatrol® on-stream process analyzers, measurement & control instruments, level detectors and line of new accessories.
Automation Products, Inc.