AIChE offers its members access to competitive rates for credit cards and money market accounts and other services for both personal and business use.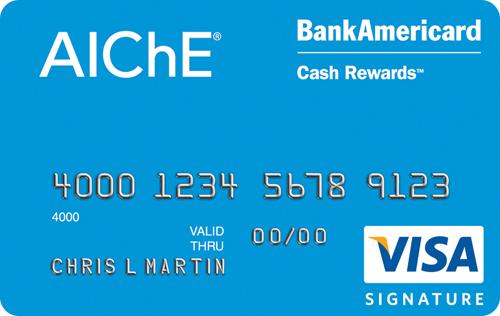 Source: BofA
---
Reap the benefits of the BankAmericard Cash Rewards
TM
Visa Signature
®
credit card for the American Institute of Chemical Engineers
  Apply for the new American Institute of Chemical Engineers BankAmericard Cash RewardsTM Visa Signature® credit card that rewards customers with up to 3% cash back on certain purchases, all while supporting AIChE initiatives. In addition to earning cash back rewards for yourself, use of this card benefits the AIChE at no extra cost to you!
Here are some of the features of the new AIChE BankAmericard Cash Rewards Visa Signature® credit card:
1% cash back on all purchases.
2% cash back on grocery store purchases.
3% on gas station purchases.
The 2% cash back on grocery store purchases and 3% cash back on gas purchases applies to $1,500 in combined purchases in these categories each quarter. After that, the base 1% earn rate applies to those purchases.
Rewards are automatic and do not expire. There's no need to register your card or sign up to earn your cash rewards.
Get a 10 percent customer bonus when you redeem into a Bank of America® checking or savings account.
Chose how you want to receive your cash. Have it deposited into any checking or savings account, credited to your statement or sent directly to you
For information about the rates, fees, other costs and benefits associated with the use of this credit card, or to apply, Click Here and refer to the disclosures accompanying the online credit application. This credit card program is issued and administered by Bank of America, N.A. BankAmericard Cash Rewards is a trademark and Bank of America and the Bank of America logo are registered trademarks of Bank of America Corporation. Visa and Visa Signature are registered trademarks of Visa International Service Association, and are used by the issuer pursuant to license from Visa U.S.A. Inc. © 2014 Bank of America Corporation.
With the AIChE WorldPoints® Business Card Earning points is easy while using the card for all your business expenses including inventory, payroll, and daily costs.
Turn your everyday purchases into uncommon rewards.
Earn 1 point for every $1 in net retail purchases you make.
Enjoy an exciting world of value, convenience and choice.
Transfer Points to and from your personal WorldPoints account and redeem the points earned for yourself, your employees or your business.
For more information about the rates, fees, costs, and benefits, or to apply, please call 1-888-803-5421 and ask to apply for the AIChE business credit card.
Take a fresh look at your portfolio, refresh your estate plan (especially to address new tax changes) or start building your wealth today with independent financial services firm Grogan Advisory Services. Students can start building their savings, even while you deal with student loans. 
AIChE Members, consultants and business owners have access to Grogan Advisory Services, an independent financial services firm. Members receive free consultation and portfolio review, and discounts on other services.  Grogan Advisory Services offers investment programs for IRA's, 401k's, 403b's, 457's, stocks, bonds, ETF's, and mutual funds with a variety of low cost asset management platforms.
Contact Grogan Advisory Services and its independent team of from Certified Financial Planners, CPAs and attorneys, to learn more about these services offered to you.