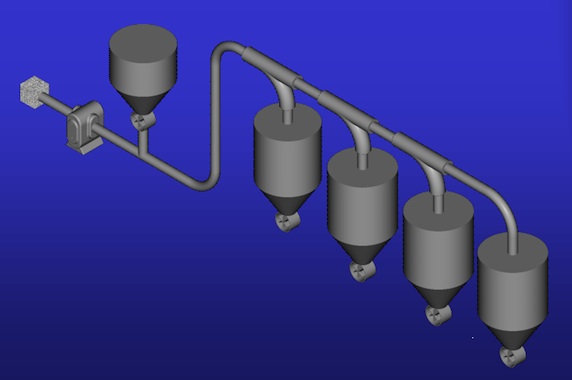 Course Type:
Instructor-led (classroom) Course
Although many pneumatic conveying equipment advances have been made, costly problems – including wear, attrition, rate limitation and line plugging – continue to occur.
Learn how to apply practical design and troubleshooting principles to improve the efficiency, safety and reliability of pneumatic conveying systems transporting powders and bulk solids.
Ensure trouble-free flow
In one day, you'll review the fundamentals of gas/solids flow and address common pneumatic conveying problems, modes of transport in a pipeline and scale-model tests and their use in designing and evaluating poorly operating systems. You'll discuss line chargers (feeders), proven pipeline layout rules and criteria for elbow/bend selection. The instructor also will cover more specialized topics including dense phase conveying systems and gas/solids separators such as cyclones, filters and bag houses.
Real-life industrial case histories will help increase your understanding of the theory and application taught.
Save when you take both this course and CH032 - Flow of Solids in Bins, Hoppers, Chutes and Feeders by registering for CH757 - Solids Handling Combo Course
This course will be taught by one of the instructors listed below.
Continuing Education Units:
Professional Development Hours
Instructors
Eric Maynard

Director of Education and a Senior Consultant with Jenike & Johanson, Inc.

Eric Maynard is the Director of Education and a Senior Consultant with Jenike & Johanson, Inc., which is recognized as the world's leading engineering firm specializing in bulk solids handling technology. Eric received his B.S. in Mechanical Engineering from Villanova University and his M.S. in Mechanical Engineering from Worcester Polytechnic Institute.

Herman Purutyan

CEO of Jenike & Johanson Inc.

CEO of Jenike & Johanson Inc., a world-renowned engineering consulting firm specializing in the storage, flow and processing of powder and bulk solids. He has been recognized worldwide for his technical ability and experience in the field of storage and flow of solids.

Thomas Troxel

Vice President, Jenike & Johanson Inc.

Vice President at Jenike & Johanson Inc., Thomas has been involved in many projects related to flow properties testing, modeling, blending, pneumatic conveying and fluidization.

Andres Orlando

Project Engineer, Jenike & Johanson, Inc.

Andres Orlando is a Project Engineer with Jenike & Johanson. Andrés received his B.S. in Mechanical Engineering and Ph.D. in Granular Mechanics from Clarkson University. His graduate studies focused in computational modeling of granular materials flows and comparing numerical models against physical experiments.
Pricing
AIChE Members
$895
AIChE Grad Student Members
$447.50
AIChE Undergrad Student Members
$447.50
Non-Members*
$1,095
Training 10 or More?
Volume Pricing is available. Send an e-mail to

edu@aiche.org for more information.
* AIChE Membership is just $199 a year. For more information on becoming an AIChE member click here.
If you are interested in scheduling this course for
In-Company Training
, please complete the
Request for Proposal Form
and we will e-mail you a proposal. 
Registration
Note: Registered attendees will receive an email 4 weeks before the course start date (6 weeks if course is outside the U.S.) notifying them of the status of the course. Please do not book airline tickets before you receive notification as we cannot reimburse tickets or airline change fees if the class is not held. If you have any questions, please call Customer Service (800.242.4363 or 203.702.7660 outside US).
Mention you are attending a course at the American Management Association Conference Center to receive a special corporate rate (applies to both properties, subject to availability).  More info
Accommodation Instructions:
Mention you are attending a meeting at the CMC - Toronto and reference ID# N2665149 to get the best available rate (applies to Hilton only).