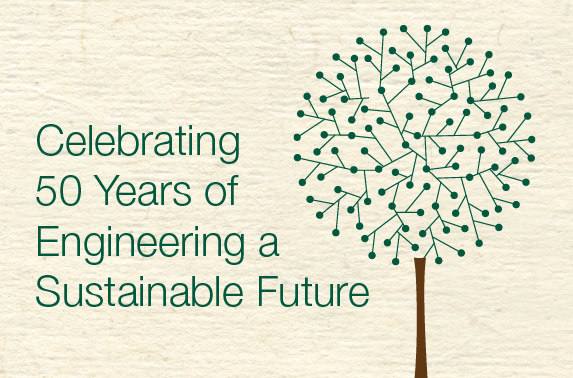 As you may know, 2012 marked the 50th anniversary of the publication of Silent Spring, from which many date birth of the modern environmental movement. Although not immediately embraced by companies and their employees, this movement has since re-shaped the industries served by chemical engineers.
At its 2012 gala, AIChE honored three leaders from the energy, chemical and financial industries. They represent companies whose chemical engineers have a history of innovation and excellence in environmental achievement, and that have successfully moved from reducing emissions and remediating legacy issues, to a focus on clean process, green engineering and sustainability, as well as their investment partners.

AIChE's 2012 Gala raised funds for the continued development of real-world, sustainable technology practices and meaningful, usable sustainability tools that promise to benefit the environmental performance of all companies. Participation in the gala built awareness and broadened support for the real record of environmental achievement and our shared commitment to a sustainable future.
Honoring
John S. Watson

Chairman & CEO, Chevron Corporation

John S. Watson is chairman of the board and chief executive officer of Chevron Corporation, a position he has held since 2010. He is also chairman of the board of directors and the executive committee of the American Petroleum Institute.

Ellen J. Kullman 

Chair & CEO, DuPont

Ellen Kullman, 56, is chair of the board and chief executive officer of DuPont. She is the 19th executive to lead the company in more than 208 years of DuPont history.

 

John Televantos

Partner, Arsenal Capital Partners

Dr. Televantos is a partner at Arsenal Capital Partners; a leading middle market private equity firm focused on the specialty industrial, healthcare and specialty financial service sectors of the economy. 

 

 
Gala Chair
Stephen F. Angel

Chairman, President & CEO—Praxair

Steve Angel became chairman of Praxair, Inc. on May 1, 2007. He had been president and chief executive officer since January 1, 2007. Angel joined Praxair in 2001 as executive vice president, responsible for Praxair's businesses in North America, Europe and Asia, as well as for Healthcare.