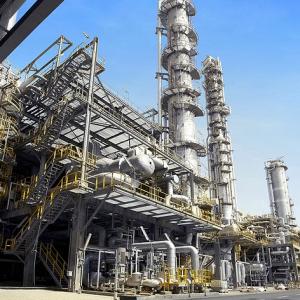 The global energy map is rapidly changing. More precisely, Big Oil has been redrawing it. For decades, the main hydrocarbon hunting grounds were in deserts of the Persian Gulf, and North Africa, and the difficult terrain of the Niger Delta and the Caspian Sea. But the focus shifted. During the last decade, Big Oil has returned home to the US and found oil and gas in familiar, more politically stable places like the Eagle Ford Shale in Texas and the Bakken Formation in North Dakota. This shift has had profound implications for the industry, global politics, and workers.
According to recent statistics compiled by the US Energy Information Administration, the United States will surpass Russia and Saudi Arabia to become the world's top producer of petroleum and natural gas hydrocarbons in 2013, led by oil booms in Texas and North Dakota, and a surge of natural gas in the Marcellus Shale.
US oil and gas production surge
The nation's crude oil production hit 7.5 million barrels per day in July, a 45 percent jump over July 2008. The United States also produced 2.5 trillion cubic feet of natural gas in July, a 16 percent jump over 2008, boosted largely by shale gas production in the Northeast, according to data from the EIA. At the same time, growth in petroleum output from Saudi Arabia and Russia has been very modest by comparison.
For the United States and Russia, total petroleum and natural gas hydrocarbon production, in energy content terms, is almost evenly split between petroleum and natural gas. Saudi Arabia's production, on the other hand, still heavily favors petroleum. Although Saudi Aramco, which just started production at its huge, new Manifa field (which is putting out 500,000 barrels of crude per day) claims to have large amounts of new produced gas.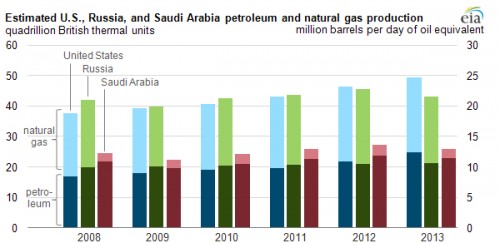 Technological change
Of course, driving this change is the boom in unconventional, formerly inaccessible hydrocarbons like shale gas and oil sands that were once considered too difficult and expensive to extract. They are now being exploited on an vast scale from Texas to Canada to Brazil. Technology like horizontal drilling and fracking, along with refinements in deep water drilling, unleashed a wealth of oil and gas.
That has political ramifications, shifting power away from OPEC countries and toward the Western hemisphere. With more crude being produced in North America, there's less likelihood that Middle Eastern politics will cause supply shocks that drive up gasoline prices. In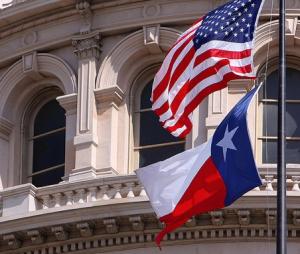 the years to come, Saudi Arabia's role as the global swing producer will be augmented by supplies from North America, Brazil and Canada.
The resurgence of the U.S. chemical industry can be explained in two words: natural gas. The shale boom has made the U.S. the lowest-cost chemical producer outside the Middle East. As an example, a Bloomberg article opened with:
Ships sailing from Chile are bringing an unusual cargo to the U.S.: chemical factories. Methanex, the Canadian company that's the world's largest producer of methanol, is spending $1.1 billion to disassemble two of its Chilean factories and rebuild them in Geismar, LA. The first plant is scheduled to open next year. A second will be relocated by early 2016.
Oil-patch job surge
Five years ago companies were closing U.S. plants and moving production to the Middle East to gain access to cheaper raw materials and to be closer to Asian markets. But as the United States' natural gas imports plummeted 21 percent between 2008 and 2012, many companies, including ExxonMobil, Chevron, and Sasol, made plans to spend about $100 billion to build or expand chemical plants in the U.S. Dow Chemical, the biggest U.S. chemical maker by sales, is spending $4 billion to build factories in Freeport, TX, and reopen a plant in Hahnville,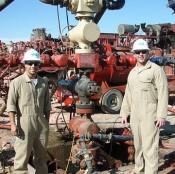 LA, creating 500 manufacturing and 5,000 construction jobs.
Workers have also benefited, finding more jobs. Texas continues to add energy jobs in impressive numbers. A new report from Rigzone showed that the state added 2,400 energy jobs in the second quarter, a 2 percent jump, and that even though job growth overall is slow, oil and gas job creation has been on an unprecedented run in recent years.
Data released last summer showed jobs in the oil and gas sector have grown 40 percent in the last five years, helping to counteract the tepid 1 percent increase in total U.S. employment. The oil and natural gas industry created more than 162,000 jobs from 2007 to 2012 in drilling, extraction and support services, according to a report by the Labor Department's Bureau of Labor Statistics.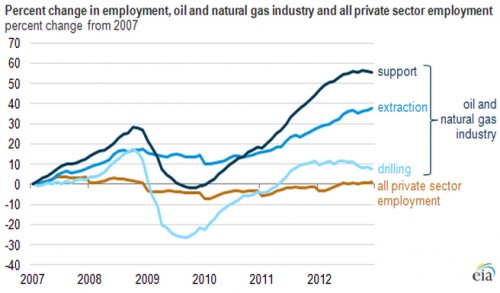 So in brute energy terms, the growth and comparisons are impressive. Since 2008, U.S. petroleum production has increased 7 quadrillion Btu, with dramatic growth in Texas and North Dakota. Natural gas production has increased by 3 quadrillion Btu over the same period, with much of this growth coming from the eastern United States. Russia and Saudi Arabia each increased their combined hydrocarbon output by about 1 quadrillion Btu over the past five years.
Total petroleum and natural gas hydrocarbon production estimates for the United States and Russia for 2011 and 2012 were roughly equivalent--within 1 quadrillion Btu of one another. However in 2013, production estimates widen out, with the United States expected to outproduce Russia by 5 quadrillion Btu. So the new energy map is coming into sharp focus.
Images: Petrochemical plant, Secl; Flags, jmtimages; Oil field workers, Joshua Duobek; charts, EIA