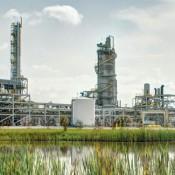 When people speak about ethanol production, they're often concerned about competing with millions of people for corn, a crucial food source. That is, until now. Third generation biofuel maker INEOS Bio just announced that its $130 million Indian River BioEnergy Center in Vero Beach, Florida, is producing commercial quantities of transportation fuel from cellulosic biomass that is nonfood, landfill waste. Eight million gallons of cellulosic ethanol, to be exact.
The INEOS concept also beats out other ethanol technologies by having three revenue streams: the first and second profitably produce ethanol, while getting paid to take in plant waste (tipping fees) diverted from a nearby landfill. And the third uses the heat generated by the process to produce 6 megawatts of power, enough to run the entire facility and still sell excess power to the local community.
"They have successfully addressed the challenges of moving a new technology to large production scale for the very first time," said Peter Williams, CEO of INEOS Bio and Chairman of INEOS New Planet Bioenergy
The DOE incubated INEOS Bio's core technology
Since the Vero Beach plant was backed by the DOE with a $50 million stimulus grant as well a guarantee on $75 million in loans through the US Dept. of Agriculture, it's no surprise that Secretary Ernest Moniz praised the achievement, saying, "Unlocking the potential for the development of all of America's rich energy resources is a critical part of our all-of-the-above energy strategy."
The project's gasification-fermentation technology has its roots in a University of Arkansas research project, supported over fifteen years by a $5 million Energy Department investment. This generated a number of patents, which became the core intellectual property purchased by INEOS Bio in 2008. This video explains INEOS's proprietary process:
Simply put, Ineos Bio's two-step gasification and fermentation technology begins when biomass is gasified. To achieve this, it is heated with a controlled amount of oxygen to produce carbon monoxide and hydrogen, and then the carbon monoxide is fed to the bacteria that produce the ethanol. Any gas the bacteria don't eat is later burned for electricity. While now using several types of waste biomass material, including yard waste, the facility will eventually use municipal solid waste.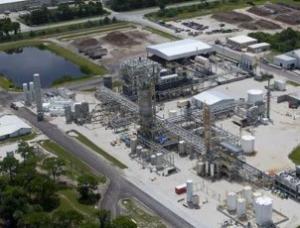 The Vero Beach plant will regionally anchor the production of cellulosic ethanol under the US Renewable Fuels Standard (RFS), and it will also serve as a reference plant for companies and cities interested in licensing the technology.
"The project pipeline is very interesting," said Dr. Williams, "and in the next months, depending on confidentiality requirements, there could be further plant announcements, but looking at the time it takes to construct, it will be a a couple of years before the next wave of plants."
Curbing landfill growth
INEOS Bio expects most potential licensees to be interested in the design at capacities much larger than the 8 million gallons constructed in Vero Beach. Since the plant's process is feedstock agnostic, the plants can be located throughout the world.
"The mix of feedstocks will entirely depend on the location, Said Williams. "What really is the trend is that we see communities that are either looking to work on greenhouse gas emissions, or seeking a great solution to waste problems."