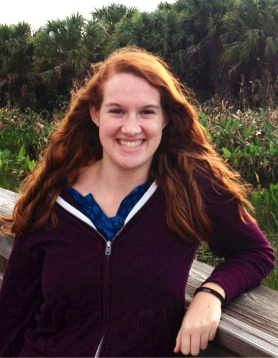 What is your name?
Amy Nutis
Where are you from?
Bridgewater, NJ
What school do you go to? What year are you?
University of Maryland, senior
Do you hold any positions in your AIChE chapter or with AIChE nationally?
Chem-E Car Team Co-Captain
What are your plans after graduation? In what field are you most interested in having an impact?
I will be heading down to Louisiana to work as a run plant engineer with the hydrocarbons group at Dow Chemical.
How do you blow off steam and keep your sanity between classes, homework and projects?
I love spending time with my roommates and friends and doing anything from playing the board game Settlers of Catan to watching Law and Order: SVU with them. Our school is also very close to Washington, DC, so it's fun to sometimes go into the city for the day or night.
Which of your undergraduate classes have you most enjoyed?
I am currently taking a process engineering economics and design class that I enjoy. It's a very demanding course, however, the projects are really interesting and practical, and they have taught me a lot about real chemical engineering problems.
How did you decide to pursue a degree in ChE?
I originally wanted to be a chemistry major when I was applying to college, but I also always liked math and other sciences, so my father, a mechanical engineer, convinced me that I didn't know enough about chemical engineering to rule it out. I applied as a chemical engineer because I figured I could easily switch to chemistry if I didn't like it, but as it turns out, I was really meant to be a chemical engineer all along!
Amy and the rest of the University of Maryland's ChemECar Team, Team Thirsty Turtles.
(click to enlarge)
What is the best kept secret on your campus?
The Society of Women Engineers lounge in the basement of one of the engineering buildings is one of my favorite spots on campus. The lounge is well decorated with warm colors and comfortable couches, and I end up spending a lot of time there in-between classes either relaxing or doing homework. It's not exactly a secret, but a lot of the time it feels like one because it's always nice and quiet!

What are you most looking forward to after graduation?
I'm really excited about the big life transitions ahead of me! I'm moving out to Baton Rouge, LA, this summer. I'm not very familiar with the area and don't know too many people there, but I'm very ready to be bold and try new things.
What will you be most saddened to leave behind at school when you move on?
I think I'll be a little bit sad and nostalgic about leaving everything from my friends to the campus behind when I graduate. I've grown very accustomed to the college lifestyle, and it's going to be hard to say goodbye so soon!

Do you have any advice to incoming students and underclassmen ChEs around the world?
My best advice to chemical engineering students is to make friends with other ChE students. There will definitely be times when you have a homework problem that you can't figure out how to do, or a concept that you just don't quite understand, and the friends in your ChE classes will become another resource to help you learn and make it less stressful and more fun to do so!

What's your first thought when you wake up in the morning?
"How many more times can I hit the snooze button before I actually have to wake up?"

If your initials (first/last or first/middle/last) stood for something other than your name, what would it be?
Astounding Mystical Nebula
How would you like to be involved with AIChE after graduation? *
I plan on staying involved with the AIChE Young Professionals community.