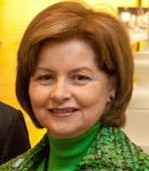 When Maria K. Burka began looking for jobs in chemistry, she was told not to use her first name on applications because "if the interviewer saw you were a woman, they wouldn't even bother interviewing you." She gives an interesting interview (see below) about her experiences as a woman in chemical technology.
Burka is the program director of the process and reaction engineering program in the Division of Chemical, Bioengineering, Environmental and Transport Systems of the National Science Foundation. Her responsibilities include evaluation and management of research and educational grants to academic institutions in the areas of chemical and biochemical reaction engineering, process control and process design, and reactive polymer processing. Past positions include senior scientist with the U.S. Environmental Protection Agency, a faculty member of the chemical engineering department of the University of Maryland-College Park, and a process design engineer with Scientific Design Company in New York City.
She has been active in a number of professional organizations, including the American Institute of Chemical Engineers, the American Chemical Society, the Society of Women Engineers, and the American Association of University Women. She served as the 2011 president of AIChE.
She received B.S. and M.S. degrees from the Massachusetts Institute of Technology and M.A. and Ph.D. degrees from Princeton University, all in chemical engineering.
For more interviews with women in chemical engineering and other areas of chemical technology, visit the complete series "Stories from the Field."
Click the play button to listen to her interview.