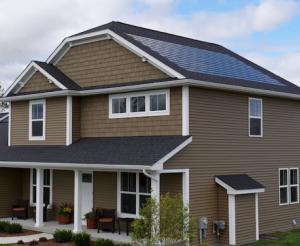 Despite the global reach of Tempe, Arizona-based First Solar, with 7 Gigawatts of thin film PV pumped up and running, China's dominance is the silicon-fisted rule in the brutal world of commodity solar module manufacturing. Now it's time to break the rules: Dow Chemical is rolling out a new thin film solar shingle, which is uniquely classified as a roofing product. It's more than just a new way to build solar panels. It's also a high-stakes bet on a completely different look for residential solar. That's not all. Dow manufactures each one - from the beginning solar cell to the finished shingle - in the United States. MIT's Technology Review has acknowledged the importance of this product launch by including Dow on its 2013 list of "tech disruptors." To complete its made-in-the-USA strategy, the Michigan-based manufacturer just acquired tiny NuvoSun of Milpitas, California, whose thin film CIGS cells power the solar shingles, Greentechmedia reported.
The steep CIGS learning curve
NuvoSun's CIGS cells are important because Dow thinks that many homeowners who need to replace their old roofs would also try solar power, but they aren't thrilled about the large rack-mounted displays that would pop up. These curb-appeal traditionalists don't want to rough it on the high tech early-adopter frontier. Dow can use the thin CIGS cells to blend their solar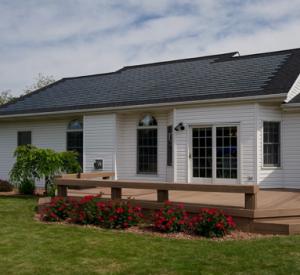 shingles unobtrusively into the surrounding roof. Traditional - that is, thicker - silicon may convert more sunlight into electricity, but it could never fit into a slim solar shingle installation. Dave Pearce, the founder and CEO of NuvoSun, sees the deal as vindication after years of CIGS growing pains, and he has a cratered first startup - Miasole - to prove it. A former Silicon Valley hard-drive executive, when Pearce started Miasole in 2001, he was the first to transfer IT manufacturing techniques into an energy startup. Unfortunately, Miasole was one of the first companies to discover how hard CIGS manufacturing is to master, and, along with almost every other CIGS company, experienced crippling delays.
Leveraging technical and marketing muscle
Now running NuvoSun and finding himself much farther along on the CIGS learning curve, Pearce uses an improved version of Miasole's original technology, where the copper, indium and gallium are deposited in a fairly cold process on thin flexible foil. Then, selenium is added in a high-temperature process. "You've got four elements that don't want to be together...the two-step process gives you more individual control," Pearce told Greentechmedia. This makes it possible to create the ultra thin and flexible solar cells that Dow needs, trumping thicker silicon prone to breaking unless protected. (Watch a 2009 video about NuvoSun.) Dow is busy putting its technical and marketing muscle to work to get this new product up on roofs. One early technical problem that Dow solved was hiding the electrical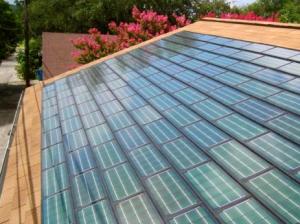 connecting wires. To fit the wires within the shingle's thin profile, Dow put them inside each shingle and created a connector at each end to string them together. "We developed a plug to connect each shingle without having to tuck the wires under the shingles or under the deck," Dan Pezolt, North American marketing at Dow Solar, told Ucilia Wang at Forbes. "That connector allows us to install directly to the roof deck." Once Dow's solar shingles arrive at the building site, roofers install them like regular shingles, by nailing a pliable rear flap directly to the roof. To add strength, each shingle also comes with an adhesive to bind them together. Watch a quick time lapse:
Still, the Dow solar shingle isn't a sure thing. The price of conventional solar panels has dropped a lot since Dow decided to get into the market. Also, conventional silicon solar cells should reliably convert a higher percentage of sunlight into electricity. Nonetheless, after years of touting the benefits of incorporating solar cells into roofing materials, Dow finally began a slow rollout in Colorado two years ago, then moved to California and Texas last year. Picking up momentum, Nexus Energy Homes of Maryland just became the first East Coast home builder to install Dow's solar shingles.
Images: solar shingle, Dow