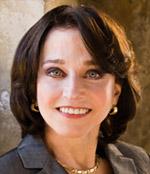 Maria Maccecchini is president and founder of QR Pharma. She received her Ph.D. in biochemistry from Rockefeller University and spent two years at the California Institute of Technology as a postdoc in molecular biology. Her first job was at Mallinckrodt as a research scientist, followed by the postion of general manager of Bachem Bioscience, a U.S. subsidiary of a Swiss company. But she had her eye on a higher target: her own business.
In the early 1990s she started her own biotech company--Symphony Pharmaceuticals. After acquiring the Scottish and Japanese company Cruachem, Symphony later changed its name to Annovis. In 2001 Annovis was acquired by Transgenomic, Inc., of San Jose, California.
Today, Maccecchini serves on the boards of several biotechnology companies, organizations that promote entrepreneurship, international trade companies, and women's and charitable organizations. Currently she is a member and director of two angel funds--Robin Hood Ventures and Mid-Atlantic Angel Group. Maccecchini not only invests dollars in early-stage companies but also mentors them in start-up, strategy, management, and finance.
Click the play button to listen to her interview.