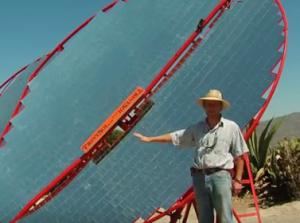 Under a blazing sun in Mexico's central mountain range, locally made, dish-shaped, solar panels suck up the area's intense light and beam 2000? heat into local kitchens.
Forget coal, gas or electric ovens, German entrepreneur Gregor Schapers designs, sells and installs giant circular solar panels in the small town of El Sauz that cook food with the sun, making delicious tortillas.
Schapers, who lives in this town 110 miles north of Mexico City, owns Trinysol, small solar-thermal energy workshop, and hopes that this environmentally-friendly solar cooker can ultimately slash energy bills in Mexico's poor rural communities.