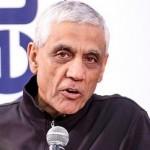 If you're still in college or just beginning your career, you might be asking yourself whether you're you're an entrepreneur or not, and where do you fall on the corporate/entrepreneur spectrum? Accurately answering that question will save you a lot of angst and floundering.
So instead of becoming overly introspective or spending a fortune on a career counseling by taking a battery of tests, just watch this short interview with serial venture capitalist Vinod Khosla.
Vinod grew up dreaming of being an entrepreneur, despite growing up in an Indian Army household with no business or technology connections. Since the age of 16, when he first heard about Intel starting up, he dreamt of starting his own technology company. Recently he's IPO'd several greentech companies in the last two years, and Kior, potentially his most successful, has just begun commercial-scale production of a green bio-crude.
Image: Vinod Khosla, @Photo.