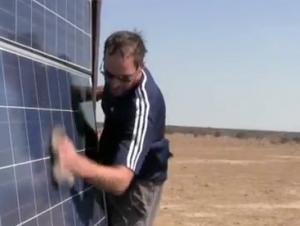 Each year a team of Stanford University elephant researchers transform a remote corner of southern Africa into a high-tech field camp run entirely on sunlight. Last summer the solar-powered research camp gave scientists a rare opportunity to quietly observe, videotape, and photograph wild elephants at Mushara waterhole, an isolated oasis in Etosha National Park in Namibia.
Solar energy even enabled the Stanford team to stay connected to the Internet, allowing them to send blog posts directly to the New York Times. Watch the video in the panel at right to learn more about their work.
Read the whole story from Stanford University.
Photos: various, Stanford