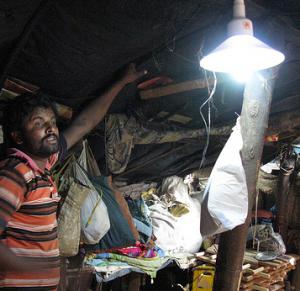 Worldwide, approximately 1.6 billion people have no access to electricity and another 1 billion have extremely unreliable access. Many of the poor are forced to depend on kerosene lanterns.
But kerosene lanterns have become a trap for the poor. Although they are dangerous and dirty, for a person with spotty income and no access to credit, kerosene is usually the only choice. The lanterns allow small payments for fuel, with consumers choosing how often and how bright to burn the lantern.
But Paul Needham, founder of Simpa Networks has found a solution. By using small solar panels, cell phones, and a pay-as-you-go pricing modeled after mobile phone cards, the company can give its customers access to reliable solar electricity.
Hear more about this great solution in the video panel to the right.