By Sarah Widder

On April 21 - 23, 2012, AIChE participated in the EPA P3 Sustainable Design Expo on the National Mall in Washington, D.C. The P3 Program is a design competition sponsored by the U.S. Environmental Protection Agency that promotes college students researching sustainable solutions to current and future issues. P3 stands for People, Prosperity and the Planet. Through this EPA program, college students can benefit people, promote prosperity, and protect the planet by designing solutions that move us towards a sustainable future.
Teams compete for grants
Although the weather was cold and dreary, the atmosphere in the tent was full of excitement and energy. Fourty-five teams from universities across the nation competed for that chance to move on to Phase II and apply for a Phase II grant of up to $90,000. Each team's research was inspiring, innovative, and unique. Also, the teams' excitement and dedication to sustainable design and development was a reminder that we can all make a difference.
AIChE bestows award for research and design
For the past decade, AIChE has supported the P3 program by awarding one team an award for a research project and design that involves interdisciplinary collaboration, innovative technologies, and locally produced materials.The award is sponsored by AIChE's Youth Council on Sustainable Science and Technology (YCOSST). YCCOST's mission is to create an understanding about sustainability issues and principles, raise awareness of the science and technology behind sustainable choices, and develop grassroots campus efforts. The organization is focused on promoting sustainability education in schools at all levels and encouraging the involvement of young people in sustainability careers, research, and organizations.
This year's winner
This year, AIChE awarded $1,000 to Appalachian State University for their project on "An On-Site Biological Graywater Treatment System Suitable for a Small Business." The project combined biology, chemistry, and appropriate technologies to create an on-site graywater treatment system at a local hair salon using terrestrial and aquatic plants, which will also enhance the local environment.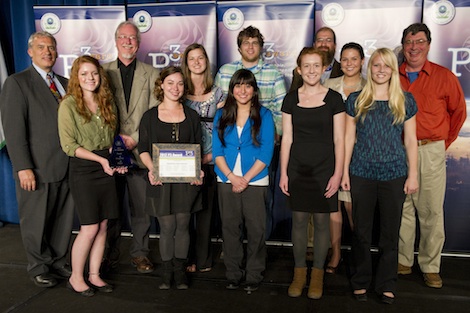 In addition to judging the teams, AIChE staffed a booth as part of the Expo, presenting information on AIChE's sustainability programs under the Institute for Sustainability (including YCOSST) and Society for Biological Engineers. The event left us motivated to "be the change you wish to see in the world" and inspired by the innovative solutions produced by these teams, and which will make our future more environmentally benign, economically profitable, and socially conscious. I can't think of a better way to have spent Earth Day.