by Kate Gawel
Puget Sound
Annual University of Washington Student Meeting
Date: Tuesday, May 15th, 2012
Time: 6:00pm: Social Hour | 7:00pm: Dinner | 8:00pm: Presentations
Location: Ivar's Salmon House, 401 NE Northlake Way
For more information about this event or to RSVP, please see:
http://pugetsound.aiche.org/content/may-15-2012-meeting.
For More Information about AIChE Puget Sound Young Professional Events or to get involved, please contact Margaret Donegan-Ryan at margaretdr@gmail.com.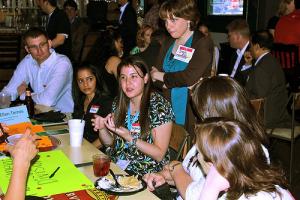 Chicago
Tour and Social at Goose Island
Date: Saturday, May 19th, 2012
Time: Noon. Tours at 12:30 and 2:00pm
Location: Goose Island Brewpub, 1800 North Clybourn, Chicago IL
Cost: $10/person for tour. Food/drinks will be billed individually.
RSVP: Email Jon, Jonathan.Haughton@cornproducts.com by May 14th and indicate which tour you are interested in.
See the technical side of beer with a tour of the Goose Island Brewery, then see the social side of AIChE with the Chicago YP's! Tours are $10/person and include tasting of current beer selections!
Tour spaces are limited - Please RSVP by emailing Jon, jonathan.haughton@cornproducts.com by May 14th and indicate which tour (12:30 or 2:00 pm) you will be attending. Must be 21+ with valid ID to attend tour!
May 2012 Graduates (and friends!) are specially invited to join us at this event to celebrate joining the ranks of Young Professionals!
The June meeting is TBD.
The July meeting will be our annual planning event; date/location TBD.
To List your Local Sections YP Events in the Next YPAB Newsletter, please contact Elizabeth Horahan at aicheypnews@gmail.com.