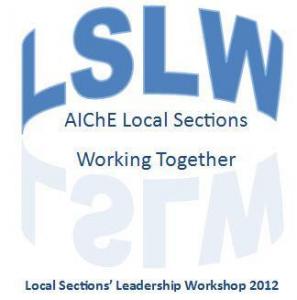 by Amanda Robben
AIChE held the first annual Local Sections Leaders Workshop (LSLW) on the weekend of March 31 - April 1, 2012 at the University of Houston. The LSLW is a reorganization of the Leadership Development Conference that has been held in past years. Local Section Leaders from across the country came to Houston to develop as Local Section (LS) leaders.
Sessions were held to discuss topics such as how to revitalize a dormant section and how to get volunteer leaders. The LSLW sessions were interactive, allowing the LS leaders to share their successes and discuss current issues. On Saturday night there was a dinner that allowed LS leaders to network and gain contacts they can lean on for support as they lead their section. Several Young Professionals (YP's) were among the LS leaders present at the Workshop. Sections such as Kansas City and East Tennessee have YP's in their leadership teams and YP's across the country remain a vital part of Local Sections as both members and leaders.
The discussions that began at the LSLW continue through the Local Section Committee's monthly teleconference. All LS leaders are invited to attend the LSC teleconference on the third Wednesday of every month at Noon ET. If you would like to learn more about the LSLW or how the LSC can help you and your section, you can contact the current chair Amanda Robben at amanda.robben@basf.com.