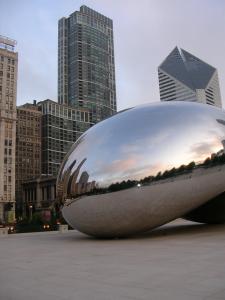 By: Meagan Lewis
This past year was a busy year for the Young Professional Advisory Board Chicago local section. Our YP group has grown tremendously over the past few years with several new active members. The Chicago section has recently restructured in order to give more YPs more chances for leadership roles. Our now Past Chair, Jessica Swary, did a tremendous job leading this effort and helped establish the new leadership group as shown below:
Each month we hold an event specifically focused on young professional topics rotating our focus each month between technical topics, professional development topics, outreach events and purely social events. In the past few months we hosted events all throughout the greater Chicagoland area.
We started out the year by assisting the National AIChE Young Professional Advisory Board with the Spring Meeting 2011 held in Downtown Chicago. The Chicago YPs served as co-chairs for several technical and professional Development Sessions by co-sponsoring topics with the AIChE Divisions. We also organized the highly attended Spring YP Mixer, which set the new standard for Speed Networking at future Spring Meetings.
Our recent events included an outreach event for the local community at the Des Plaines Public library Science Exposition where children of all ages dressed up as real engineers in hard hats and other PPE. Our group also reached out to the community in October at the Northern Illinois Food bank to help organize and stock the shelves for the upcoming winter season.
Chicago YP's also held a development track at the AIChE Midwest Regional Conference this year held at the University of Illinois, Chicago. The presentations included working with and updating resumes, financial planning in your 20's, and Working with Mathematical Models. Following the conference we hosted a networking social that brought together both young and experienced engineers.
To mix it up, we held a roundtable discussion in October regarding Business Travel Tips and Etiquette at the local salseria. Experienced Young Professional business travelers shared great stories of travels around the world. There were some great ideas of what NOT to do when in difficult and sometimes hilarious situations abroad. A summary of this discussion will be available on the Chicago-YPAB website.
In the upcoming months the Chicago YP section does not plan to slow down! We have many events already scheduled. We plan to expand our technical knowledge in January with a presentation on the UOP Separex technology hosted at UOP, A Honeywell Company. Also in early 2012, we plan to take a break after the holidays and get a little competitive by playing a fun game of Whirlyball in Lombard, IL. This event is always one of our most popular events each year.
At the end of January - Saturday, January 21st - Chicago YPs will be participating as judges for the Chicago Regional Future Cities competition. The future cities competition is a national program that introduces high school students to engineering with the popular Sim City software and each year the Chicago AIChE section hosts a specialized award for this event. In February the Chicago YP section will of course be involved in Engineer's Week activities including hosting a demonstration table at the Illinois Institute of Technology's annual E-week event at the IIT Rice Campus in Wheaton. This event brings out future engineers of all ages each year.
If you are interested in getting involved with the Chicago YPAB section, please our Chair, Aaron Matthews at aaron.matthews@navistar.com. As you can tell, we are a very active Young Professional section and we always welcome new members and volunteers.