A K-12 Outreach Story from Kenneth G. Weaber, Susquehanna, PA Local Section.
The "What in the World" (WITW) program for fifth and sixth graders was started in 1996 by the Lancaster and Lebanon (PA) Science and Technology Alliance (LLSTA). I have personally been involved with it for the last five years. This vocational program is designed to help students understand why they need to study and do well in math and science.
The individual elementary school contacts an alliance member to arrange a program at their site. In each case, volunteers from a range of occupations and vocations come in to present to the students. Typically, the students would be divided up into groups of six to nine students, and these groups would rotate among the volunteers, spending about fifteen minutes with each.
90 minutes, Exposure to Six Occupations
Over the normal 90-minute program, each volunteer speaks to a total of 40 to 50 students, and each student is exposed to six different occupations, each of which uses science and/or math in some way. Engineers and technical fields are well represented, but so are bankers, mechanics, naturalists, insurance agents, etc. Ideally, the students realize that math and/or science are useful (and needed) in most occupations.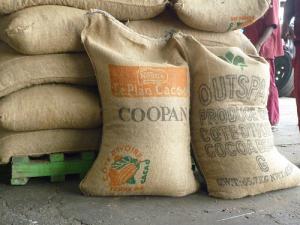 At this age, the kids seem very interested in the variety of possible occupations that people have, although most of the experienced presenters learn to bring out those details of their jobs that hold the kids' interest. Speaking for myself, retired after 25 years of doing chocolate R&D for Mars, I learned that talking about how science is used in processing cocoa beans and making chocolate holds their interest much more than the more technical aspects of my job, like statistical interpretation of line trial data.
Through my participation in WITW, I have been able to do 20 to 25 presentations each school year; as a result, there are now several thousand Lancaster County students who have had at least a slight exposure to one reason why they should study science - to make better chocolate.
Do you have any educational outreach stories you'd like to share? Are you interested in starting a new outreach effort in your local area? If so, please reply to this post or send an email to K12Outreach@aiche.org.
Photos: Cocoa pods, IITA Image Library via Flickr; cocoa in sacks, Nestl? via Flickr; raised hands, istockphoto.com