The Young Professionals of South Texas Section (STS-AIChE) in Houston organized a plant tour to the ConocoPhillips Sweeny Refinery in Old Ocean, TX, which is little over an hour's drive from downtown Houston.
"We planned this tour for the last few months and finally got it going. ConocoPhillips was very accommodating--thanks to them for helping us with this tour," said YP Chair of STS-AIChE, Jayce Mathews. Jayce also commented on the overwhelming response to the tour. "we had limited slots for the tour but we also wanted to make sure that the students from our region also got a chance." Many of the YPs that are involved with engineering and design of various processes and who don't work in refineries but in E&C firms sometimes don't get a chance to visit a refinery, and it was interesting for them to see how the actual units and equipments look like, whether it is a catalytic reformer or those tall distillation columns, or the flare or the coker--the list goes on."
The tour consisted of a thorough overview of the refinery's operations, including its history by the refinery's technical manager, and the YPs also viewed a safety video and briefing before they toured the whole plant. The manager seemed very impressed with the quality of the questions the YPs asked during the whole tour.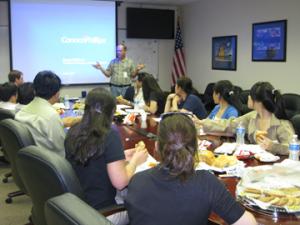 Abel Morales, a senior at the University of Houston who attended the tour, said, "This was an awesome experience. The engineers that led the tour were very knowledgeable and encouraged questions. Getting a chance to see all of these units running and understanding what they were doing was pretty cool. Typically in class we neglect to realize such units we are doing calculations on are that big and sophisticated. A big thank you to the STS-AIChE Chapter for organizing this event."
"This refinery tour was one of the best I have had the pleasure of attending. The tour was informative and gave a wealth of information to the attendees. Our tour guide, who is also the technical manager at ConocoPhillips, was open to answering questions on all kinds of issues. As an engineer at an E&C firm, refinery tours such as this one are a helpful window into the intersection of safety, refinery economics, environmental limits, and the various refinery processes," says Matthew Johnson, a process engineer at Foster Wheeler who also attended the tour.
The tour, which lasted almost half the day, also provided a great networking opportunity for the YPs, most of whom work for companies that are competitors. The students attending also gained a good understanding of the industry as well as a taste of what to expect when they graduate. Thank you to ConocoPhillips for giving the YPs such an opportunity!